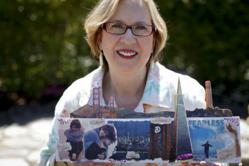 "Maggie Oman Shannon is an enthusiastic guide through all these project possibilities."

—Spirituality & Practice
(PRWEB) June 13, 2013
The San Francisco Chronicle featured Maggie Oman Shannon's calm-inducing crafts, including the treasure map she made for her personal goals, hopes and dreams. This sort of out-of-the-box craft is exactly the kind of project that she writes about in Crafting Calm: Projects and Practices for Creativity and Contemplation. When asked about her mission statement, Maggie explains that "these crafts broaden the conception of what meditation can be. Arts and crafts allow creative time to get back to centeredness."
Crafting Calm is aimed at readers of all experience levels. The actual process of making a craft is far more important than the finished product. Shannon's intention is to help people with process—the spiritual journey of creating. Whether crocheting a blanket for a grandchild, mixing a concoction of anointing oils for ceremony or aromatherapy, weaving a prayer shawl for an ill neighbor, or assembling a collage of dreams, the intention to create a meaningful space is all that is truly needed.
Maggie will also appear in person at Open Secret next week, where she will teach an exciting project for crafters and the craft-curious.
June 20th, 7:30pm
Open Secret Bookstore
923 C St.
San Rafael, CA 94901
Crafting Calm inspires with its broad assortment of spiritual practices gathered from crafts communities around the world, as well as from everyday people who have adopted creative forms of spiritual practice. Organized into eight chapters that address different intentions one can hold when approaching creating, sections include crafting for calm, clarity, comfort, contemplation, connection with others and connection with spirit, offering an opportunity for conscious intention to reflect in some way—or to be a vehicle to communing—with the Divine. Each chapter presents five different practices, offering forty activities to inspire, along with a series of questions for journaling and reflection.