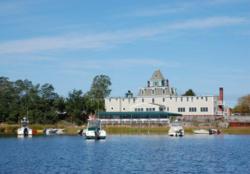 North Hampton, NH (PRWEB) June 13, 2013
The solo traveler is catching the attention of the travel industry! Gone are the days that those who choose to travel alone are penalized with a dreaded "single supplement" and instead resorts and hotels are wooing solos with great deals and incentives. It is estimated that more than 11% of all U.S. travelers are traveling alone and New England is the perfect place for solo travelers with so many options and activities. This summer, the New England Inns & Resorts Association has collected wonderful packages for solo travelers that will entice them to come and explore all the wonderful joys of the region. These Solo Traveler Packages can only be found collectively at http://www.NewEnglandInnsandResorts.com - no other website can offer such a wide range of packages and information in one central location.
The New England Inns and Resorts Association is comprised of nearly 250 of the finest inns, resorts, hotels, and B&Bs in the region, with a wide range of accommodations to satisfy every visitor. The Solo Travel offerings vary by property, and visitors can find the New England vacation that suits them best by visiting http://www.NewEnglandInnsandResorts.com. Sample packages include:

Additional Solo Traveler Packages can be found online at http://www.NewEnglandInnsandResorts.com.
# # #
New England Inns & Resorts Association is a collection of New England's most distinctive, independently owned and operated lodging properties. Established in 1907 by owners of B&Bs, hotels, inns and resorts in the New England region, the Association is comprised of nearly 250 properties. Many of the lodgings are also members of Historic Hotels of America, Preferred Hotels and Select Registry.
The association's website, NewEnglandInnsandResorts.com, is a rich resource for consumers offering a quick reservations widget that searches all member room availability for one-stop comparison shopping and booking directly from the site.
Also new from New England Inns & Resorts is the free New England Inns & Resorts Mobile App which allows users to explore New England Inns & Resorts' unique collection of nearly 250 properties. Guests can search by town and state, use the Map feature to find properties in close proximity to their current location, access exclusive lodging deals and book or call to make a reservation right from the app! It's an easy way for travelers to carry New England Inns with them for the easiest access possible.
In addition to featuring value-rich packages for consumers, the association is also well known for their gift certificates, which are available in any denomination and redeemable at all member properties. Gift Certificates can be purchased online or by calling the association directly at 1-603-964-6689.
Please visit NewEnglandInnsandResorts.com for more information.