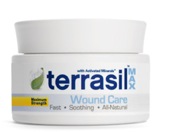 Terrasil is easy to use and well tolerated by patients with all types of non-healing wounds and should be considered as a primary topical agent.
Woonsocket, RI (PRWEB) June 17, 2013
According to Centers for Disease Control and Prevention (CDC) nearly 30 million people in the U.S. have diabetes. Diabetic foot ulcers are a major complication resulting from diabetes. They occur in approximately 15% of diabetics and precede 84% of all lower leg amputations. Diabetic foot ulcers and related problems cause 20 percent of the nearly 3 million hospitalizations related to diabetes every year. Due to poor circulation in diabetic patients, diabetic chronic wounds heal very slowly and often remain for years as skin ulcers. To control infection and prevent amputation, non-healing chronic wounds require expensive treatments that can cost thousands of dollars. According to the American Diabetes Association, the average cost of healing a single foot ulcer is $8,000, that of an infected ulcer is $17,000, and that of a major amputation is $45,000. But, now there may be an effective and substantially lower-cost alternative.
NEW FDA-REGISTERED WOUND CARE OINTMENT
A new, non-prescription ointment was recently registered with the U.S. Food and Drug Administration (FDA) for distribution in the U.S. It may provide a very low cost alternative for treatment of diabetic foot ulcers and other chronic wounds and traumatic wounds.
Developed and manufactured by Aidance Skincare, a Rhode Island company, their Wound Care Ointment is sold direct to consumers under the brand name Terrasil™. During development of the wound care formulation, clinical studies in 2010 and 2011 with 192 patients showed that the ointment was able to heal chronic wounds up to 3.7-times (370%) faster than conventional treatment. Normally, a 15-20% clinical improvement is noteworthy, so more than 300% is extraordinary.
Since the product's introduction in October 2012, it has been distributed to hospitals throughout the U.S. By March, Dr. Thomas Serena, MD - one of the world's top wound care experts - was so impressed with the ointment's effectiveness that he initiated a multi-center case study program to document the formulation's ability to heal diabetic foot ulcers faster. Physicians and nurses at hospitals, wound care centers and medical offices across the U.S. have demonstrate the powerful efficacy of Terrasil Wound Care & Antiseptic Ointment to control bioburden and support healing 2-4 times faster than comparative treatment options.
Clinical evaluations are currently being performed in 18 hospitals in the U.S., with initial case studies documenting effective control of infection and accelerated healing of even the hardest-to-heal chronic wounds. In addition, in-vitro laboratory tests comparing the company's Wound Care Ointment to Bacitracin, Triple Antibiotic Ointment and several silver gels, showed that the Terrasil formulation killed bacteria up to 21-times (21X) more efficiently and prevented regrowth of the bacteria. This is important because bacterial invasion of chronic wounds, referred to as bioburden, is a major inhibitor of healing.
HELPS DOCTORS HEAL CHRONIC WOUNDS
Dr. Jeffrey Niezgoda, MD, a nationally-prominent wound specialist said: "Terrasil is a novel wound ointment that has the potential to provide significant positive impact on one of the primary impediments to healing in chronic wounds: wound bioburden. It is easy to use and well tolerated by patients with all types of non-healing wounds and should be considered as a primary topical agent."
Dr. Brock Liden, DPM, a podiatric researcher and frequent speaker at conferences said: "Terrasil Wound Care & Antiseptic Ointment is a new, unique topical cream that has proven to be very effective treating recalcitrant wounds. It has provided a dual-prong benefit for our patients, by resolving infections that did not respond to traditional topical silver dressing - even outperforming oral therapies - and by being effective at epithelizing and closing wounds. This ointment provides the doctor with a new tool that is effective against both easy-to-treat wounds and complicated, difficult-to-heal wounds."
Available in a 14-gram (0.5 ounce) and 44-gram (1.5 ounce) container, the wound care ointment costs between $24 and $57. The Terrasil ointment provides three critical functions: providing a barrier protection for wounds (especially chronic wounds), reducing the chance of infection, and supporting healing. The wound care ointments are formulated with a patented mineral complex, active ingredients, organic extracts and compounds. These mixtures produce a synergistic effect that provides outstanding support for accelerated natural healing of diabetic foot ulcers and other types of wounds. Several patents have been awarded and more are pending in the U.S. and internationally.
The Terrasil Wound Care Ointment can be purchased direct from the company at http://www.AidanceProducts.com or by calling 877-424-3262. Medical professionals interested in learning more about Terrasil Wound Care Ointment, click here.
About Aidance Skincare
Aidance Skincare is a Woonsocket, Rhode Island based company that provides natural, therapeutic skincare solutions to physicians and customers in more than 150 countries. The company's research of all-natural skin treatments spans 10 years and has yielded remarkable discoveries; most notably, Activated Minerals™ (multiple international patents issued and pending). Aidance prides itself on offering products that are based on proven science and actual customer success. For more information, contact Aidance Skincare at 877-424-3262 or visit http://www.AidanceProducts.com.
About Aspiera Medical
Aspiera Medical is a division of Aidance Skincare that works in collaboration with physicians and researchers. Aspiera is rooted in more than 10 years of research and product development. It exists to offer the medical community products to support faster healing for bacterial skin infections, wounds, fungal infections, and warts. For more information, please visit http://www.Aspiera.com or contact David Goldsmith at david(at)aspiera(dot)com, or 401-400-0047.