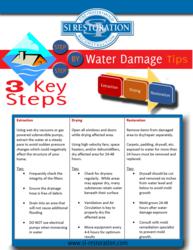 Project managers believe that residential and commercial clients are experiencing such severe flooding due to being ill prepared in the face of record rainfall.
Mount Laurel, NJ (PRWEB) June 13, 2013
Flood damage can be one of the most costly disasters for residential and commercial property owners. On the heels of a storm front that saw record rainfalls flood much of the Mid-Atlantic region the week prior, meteorologist Chris Dolce of weather.com reports that another intense storm has put residents in Pennsylvania, New Jersey, Maryland, Virginia and Washington DC under a Flood Watch.
SI Restoration, an expert with over twenty years of experience in water damage services, has seen an abnormal amount of emergency flood damage calls since the first storm hit last week. Project managers believe that residential and commercial clients are experiencing such severe flooding due to being ill prepared in the face of record rainfall.
Jeff Cohn, owner of SI Restoration and an expert in water damage since 1989, has several tips that will help home and business owners avoid costly property damage.
Clean Gutters Thoroughly
One of the most overlooked areas of a property are the gutters. Without proper drainage of the massive amounts of water being poured onto the home or business, leaks and flooding are likely to occur.
Gutters with normal amounts of debris could take as little as 30-45 minutes to clear with the right equipment and man-power. The time it takes is a worthwhile investment that will save property owners thousands.
Check Windows and Doors
Leakage emanating from windows and doors is another easily overlooked event that could cost thousands to repair. Doorways to basements and crawl spaces should be inspected thoroughly to ensure leaking does not occur. Also, inspect the area around the entry way to make sure pools of water are not forming.
To protect a property with sub-level or low-level entryways, sand bags can be used to block and absorb water trying to enter the property.
Inspect Drains and Sump Pumps
Whether basements are finished or not, flood damage could cost property owners thousands of dollars to repair. Most sub-levels are equipped with French Drains and/or sump pumps. These systems will protect basements and sub-levels from water seeping through the foundation and walls.
First, check the drainage system around the perimeter of the basement. Ensure the drains are not blocked and descend evenly into the sump pump. In some cases, a supplemental drain may run in the middle of the basement and should be checked as well.
Next, inspect that the sump pump is working. In the event of a power outage, the pump will stop working without being hooked up to a generator or backup battery power. Be sure to check the owner's manual or with the contractor who installed it for specifics on the machine.
Basement and sublevel flooding can also cause sewage backups and damages as well as mold growth if not addressed in a timely manner. Sewage and mold restoration services added to water damage repair can cost tens of thousands of dollars in not addressed properly.
Should it be too late for property owners who have already experienced flood damage, SI Restoration's technicians have devised a Water Damage Restoration Guide to help home and business owners begin the restoration process and understand what is involved in choosing the right contractor to repair the damages in their property.