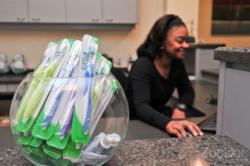 Referred pain can go undiagnosed or misdiangnosed and with such a simple solution it is essential we, as dentists, correctly diagnose and give our patients the necessary options.
Houston, TX (PRWEB) June 16, 2013
Since opening her practice seven months ago Dr. Vlachakis, owner of Healthy Smiles Family Dentistry, has noticed a few specific areas in which she wants to help her patients. The main concern for Dr. Vlachakis is the amount of damage most of us do to our teeth through grinding and clenching. Many of us associate a negative connotation with grinding our teeth, but in reality most people grind or clench more than they ever realize, most with no noticeable pain or problems. It is a natural occurrence that causes serious damage to our teeth, our gums and the surrounding bone.
The reason we grind our teeth at night is due to our jaw muscles trying to place our jaw joint in the correct position. Our teeth get in the way and are the reason our jaw can't sit completely in its joint. This incomplete seating of our jaw joint makes the muscles work extra hard to get it into the correct place. While the jaw muscles are working tirelessly, our teeth, which are in the way, are getting the brunt of the destruction. And not only does it cause damage to our dentition but it is a big cause of referred pain as well. Ear aches, headaches, tight shoulders, and limited jaw opening can all be attributed to clenching and grinding. Dr. Vlachakis has seen the damage a person can do to their teeth and gums.
A great way to prevent further damage, says Dr. Vlachakis, is a night guard appliance. This appliance is worn at night, when we do most of the wear and tear on our teeth. It is a piece of acrylic that fits your teeth perfectly so you don't have to worry about it coming out. The acrylic allows you to wear down the appliance without further damaging your teeth. Dr. Vlachakis recommends this for the majority of her patients, but due to the cost, most patients need to put off this important appliance. She wants to help her patients have the long lasting teeth they deserve and has decided to make these appliances more affordable.
Dr. Vlachakis is also excited to announce In-Office Whitening! She has found that most patients are generally happy with their smiles but could use a boost every once in a while. She wants her patients to be able to take advantage of her In-Office Whitening system which causes less sensitivity and has great results. The Venus Whitening system helps patients whiten their teeth an average of 5-6 shades in one hour long session and every patient leaves with a smile on their face.
Dr. V is a proud graduate of the University Of Texas Health Science Center School Of Dentistry. Since graduating in 2008, she has expanded her knowledge further working in both general and pediatric dental offices. Her experiences have made her passionate about treating kids and making sure their experiences are wonderful so they won't have a lingering fear of the dentist as they grow into adults. She is able to fulfill her passion for helping people for the original reasons she got into dentistry "to help people get out of pain and to help them to never stop smiling". Healthy Smiles Family Dentistry is excited to open on Thursdays and is looking forward to making you smile!