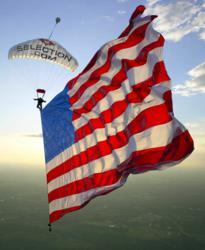 ...take a moment to reflect upon the "freedom" that you have and the human lives freely given for you to have it.
Philadelphia, PA (PRWEB) June 14, 2013
The Flag Skydive is being sponsored by Selection.com, a leading provider of criminal background checks and pre-employment screening services, as well as Start Skydiving. The event starts at 9 a.m., with a variety of historical and modern army units processing through Independence Mall. A flag raising ceremony in front of Independence Hall follows at 10 a.m. Commander in Chief George Washington will read the historic proclamation creating the U.S. Army and then visitors can enjoy birthday cake and view U.S. Army tactical vehicles at locations throughout the Mall.
Team Fastrax will be jumping into the mall around 12pm. There will be 6 skydivers in all, flying three 1,100 sq. ft. flags, one 500 sq. ft. flag, one 2,000 sq. ft. flag and a 3,500 sq. ft. flag. The Team Fastrax skydivers take this honor very seriously, and gather the flags afterward with the utmost care. John Hart, Owner of Start Skydiving and member of Team Fastrax, stated, "Flying our Nations colors over Philadelphia and landing in front of Independence Hall is special to Team Fastrax for two reasons, the first being that our Nations Independence started right here. The second is that it has never been done before. To top it off, it is Flag Day and the birthday of the United States Army. So when you see these six enormous flags flying above Philadelphia at noon, take a moment to reflect upon the 'freedom' that you have and the human lives freely given for you to have it."
Also included in the celebration will be the ringing of the first Freedom Bell, cast on June 6th, 2013, by America's premier Bell foundry, The Verdin Company. The Freedom Bell has the Official Seal of each branch of the Armed Forces embossed on the Bell in the order of their founding: Army, Marines, Navy, Air Force and the Coast Guard, now part of Homeland Security. It will be traveling across America as a part of The Spirit of Liberty Foundation's Liberty Flies Across America, a historic and unprecedented coast-to-coast airshow with Antique, Historical Military, and Experimental Aircraft flying coast-to-coast. Flights will begin prior to July 4th, leaving San Diego and flying across America and arriving in New York City on September 11, 2013, the 12th Anniversary of the 9/11 Tragedy.
Team Fastrax is the most ambitious professional skydiving team in the world. The team roster with more than twenty-nine active members with a culmination of more than 300,000 skydives. Team Fastrax has performed exhibition skydives all over the world for audiences large and small as a patriotic display or as a product promotion.