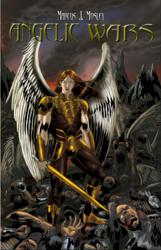 War between Man and Angels is inevitable.
Belleville, IL (PRWEB) June 18, 2013
Mr. Mosley's "Angelic Wars" will be a comic book written like a New York Times' best-selling novel. "When people think of comic books," says Mr. Mosley, "they think of inconsistent storytelling and plots that in most cases don't make any sense. My goal is to change the entire perspective about comic books. I want to bring comic books to a higher level of storytelling and a wider and more diverse audience."
Mr. Mosley understands that "Angelic Wars" will come with lots of controversy as well… "Angelic Wars will ask and try to answer questions most people are afraid to ask", asserts Mr. Mosley. "Not everyone will be happy with the questions or the answers. Some people will consider what I write blasphemy while others will feel their questions have been finally answered."
"How could Lucifer who were created by a perfect being, the almighty God himself, end up the embodiment of evil? That's impossible." expresses Mr. Mosley. "Most Biblical Scholars consider that beyond logic. Unlike man, angels were not born in sin or given free will. Angels are servants of God. Where did Lucifer's ability for free will come from and how did he convince 1/3rd of the Heavenly host to follow him?"
Mr. Mosley, Biblical Scholars, and many of us in the Twitter, Facebook, and Google world feel that the old teachings about Lucifer waking up one morning and deciding he want to be God just don't make sense.
Many Biblical Scholars feel the bigger question mankind should ask themselves is how will we co-exist with angels? Some critics of the traditional idea of Heaven states, "If man's spiritual being is designated for Heaven after our earthly existence; then how will man handle being second class citizens to a superior being such as angels?" "I can't see that happening", adds Mr. Mosley. "Man will never accept angels as their superiors in life or death. Is the next big war yet to come?"
"If humans fight other humans just because of skin color, sex, or religious beliefs, how do you think man will respond to a completely different being like an angel?", asks Mr. Mosley. "We know all the weaknesses of mankind such as envy, jealousy, anger, murder, and rebellion existed before mankind was even created. Many of those emotions caused the first war. What makes you think all those emotions will not still exist once the world ends? They were there when the world began."
Mr. Mosley go on to state, "It is believed that angels has no love for man; therefore, the chances of man and angel co-existence in Heaven peacefully is very unlikely."
"Angels most likely view humans like humans view animals. You might like animals, or even love animals, but could you ever respect an animal the way you respect another human being?, ask Mr Mosley.
Angelic Wars comic book is available online at Amazon, my website:http://www.angelic-wars.com, or at your local comic book stores.