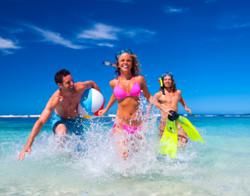 There is no better way to reward employees for a job well done!
Jamison, PA (PRWEB) June 17, 2013
Peak Performance Meetings & Incentives today announced new flexibility to its proven and popular travel incentive offerings. "We have found that there is no better way to reward your employees for a job well done," states Bruce Rickert, President of Peak Performance Meetings & Incentives.
"We customize individual travel incentives that fit any company budget," continued Rickert. "PPS has created the program to support the booking of a single individual or a group of 1,000 or more. Most importantly, we assume the entire burden and our staff works directly with your individual employees based on the amount of money allotted for the trip. The program even has a 'Build Your Own' component that allows a team member to plan and book their dream vacation with our assistance."
As an attachment you will find a sample of the incentive brochure that uses a $2,500 award level as an example of a retention incentive. The PPS website below provides additional information on this and the many other travel incentive options.
With the announcement, Rickert concluded his remarks by providing the following details. "What we want to emphasize is the convenience and power of this program. Once the employer establishes the goals and the parameters, the process is simplicity itself. The company only has to:
1. Send in a list of winners with contact information and award level achieved.
2. We contact each participant, introducing ourselves and providing detailed instructions.
3. Your winners contact us to coordinate and book their individual travel.
4. We verify all details and eligibility with your designated staff person.
5. We take care of all the details and book the travel for all the winners.
6. You experience all the benefits of a successful incentives program.
About Peak Performance Services, Inc. (PPS)
Peak Performance Meetings & Incentives is an incentive-based travel, tour, and meeting management company located in Jamison, Pennsylvania. The company serves business clients worldwide and offers a variety of services for their clients including group incentive travel, individual incentive travel, and travel for corporate meetings. Peak Performance Travel Incentives provides businesses in every market sector and industry with incredible travel experiences by using their worldwide network of partners to craft memorable business trips and vacation packages.
For more information about general corporate incentive travel and corporate event planning and management visit http://www.ppsmeetings.com.
Contacts:
Toll Free: 888-788-9078
E-mail: info@ppsmeetings.com
Website: http://www.ppsmeetings.com