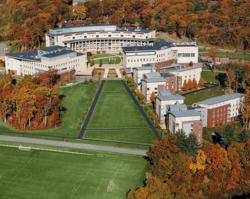 (PRWEB) June 18, 2013
At last week's Clinton Global Initiative meeting in Chicago, Olin College of Engineering announced its commitment to a year-long pilot project to test whether innovative curricular approaches developed in Olin's undergraduate engineering curriculum could help revamp K-12 education.
The project will focus on introducing design thinking--an interdisciplinary problem-solving approach that is a key component of Olin's curriculum--into the K-12 learning environment. The aim will be to see if this approach could do a better job than the traditional K-12 curriculum in producing students able to create innovative solutions to 21st century social, environmental and technical challenges.
"A key part of our mission is to help catalyze change in engineering education and STEM education more broadly," says Olin President Richard Miller. "To date, we have focused largely on fostering innovation in higher education. It is very exciting that we will now see if the same philosophies and approaches we've developed at Olin could help transform the K-12 arena."
A core team of faculty with extensive experience in professional design thinking and Olin's educational approaches will work with K-12 partners and a broader group of advisers to develop workable interventions aimed at significantly improving learning results in both STEM and non-STEM subjects. As part of the pilot project, Olin will work with two K-12 partners in the Greater Boston area to test the interventions in a classroom setting.
The changes in teaching practices will take their cues from Olin's project-centric, team-based curriculum, especially Olin's embrace of design thinking. This approach includes solving problems through interdisciplinary teamwork, addressing real-world human and societal needs, collaborating to create contextually appropriate solutions and learning from failures as well as successes. Design thinking has proven to be a highly effective framework at Olin for teaching needed skills while increasing student motivation and engagement.
The new program builds on existing initiatives and interest at Olin in pre-collegiate education. Olin-inspired courses have been prototyped at public schools in Needham and Westwood, Mass., and a long-running program to introduce engineering concepts to grade schoolers is staffed by Olin student volunteers.
Ted Dintersmith, partner emeritus at Charles River Ventures, has provided challenge grant funding to the initiative and will advise the project. Olin is seeking additional partners to fully fund the co-design year project.
"What really excites me about this initiative is that it lays the foundation for changes that could eventually make the profound Olin learning model accessible to millions of students," said Dintersmith. "This will mean that their education will be much more effective and relevant to today's challenges."
Also among those advising Olin will be Tony Wagner, Innovation Education Fellow at Harvard's Technology & Entrepreneurship Center and author of the recent book Creating Innovators: The Making of Young People Who Will Change the World.
"Olin, a pioneer in engineering education since it opened its doors a decade ago, has as great deal to teach K-12 educators about the value of hands-on, team-based, interdisciplinary learning in creating highly motivated students who are innovation-ready," said Wagner. "Their newest initiative is an exciting opportunity for educators to learn from their experience."
About Olin College
Located in Needham, Mass., and enrolling 350 students, Olin College is an undergraduate engineering institution that has been exploring innovative approaches to engineering education since its founding in 1997. Olin's dual mission is to offer an innovative engineering program to talented undergraduate students, and to play a leading role in the transformation of engineering education in the U.S. and abroad. Olin is increasingly recognized as a leader in engineering education reform for its interdisciplinary, hands-on curriculum and distinctive learning culture. To learn more, visit Olin.edu.
About CGI America
The Clinton Global Initiative, an initiative of the Clinton Foundation, convenes global leaders to create and implement innovative solutions to the world's most pressing challenges. Established in June 2011 by President Bill Clinton, the Clinton Global Initiative America addresses economic recovery in the United States. CGI America brings together leaders in business, government, and civil society to generate and implement commitments to create jobs, stimulate economic growth, foster innovation, and support workforce development in the United States. To learn more, visit cgiamerica.org.