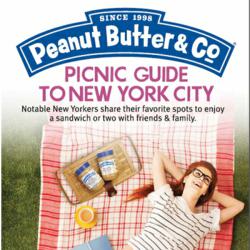 New York, NY (PRWEB) June 18, 2013
Peanut butter and picnics…what goes together more perfectly?
In celebration of International Picnic Day on June 18, 2013, Peanut Butter & Co. is pleased to introduce its brand new Picnic Guide to New York City, in which notable New Yorkers – including Katie Couric, Bette Midler, and Jerry Seinfeld – share their favorite spots to enjoy a sandwich or two with friends & family.
The Peanut Butter & Co. Picnic Guide to New York City is available at no charge at the company's Greenwich Village sandwich shop.
And just in time for summer, the Peanut Butter & Co. Sandwich Shop is relaunching a new and improved Picnic Basket for Two, a perfect companion for summertime activities at the beach, park, and beyond. For more information, visit http://www.ilovepeanutbutter.com.
About Peanut Butter & Co.
Peanut Butter & Co. began in 1998 as a cozy little Sandwich Shop in New York City's Greenwich Village and has enjoyed a loyal following of locals and tourists alike. The Shop serves up gourmet peanut butter sandwiches, desserts, milkshakes, and smoothies, as well as a full menu of traditional home-style fare including tuna melts, salads, and bologna and turkey sandwiches. The 20-seat Sandwich Shop's sunny yellow walls are adorned with vintage peanut butter ads and antique peanut butter tins that create a playful cross between an old-fashioned school lunchroom and a quaint country store. The Peanut Butter & Co. Sandwich Shop is open seven days a week, 11 am – 9 pm Sunday through Thursday and 11 am – 10 pm on Friday and Saturday.
The company's ten varieties of all natural peanut butter are available at the Sandwich Shop and in over 15,000 supermarkets and specialty food stores, including Kroger, Safeway, Target, Walmart, and Whole Foods. Peanut Butter & Co. brand peanut butter is made exclusively from USA-grown peanuts and contains no cholesterol, no trans-fats, no partially hydrogenated oils, and no high fructose corn syrup, and is both dairy-free and gluten-free.