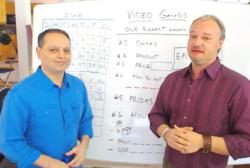 ...We have spent about a million dollars, literally a million dollars, on testing the way that people react to our videos...
Salt Lake City, UT (PRWEB) June 18, 2013
IMSoup.com has released an in-depth review of an upcoming product, Video Genesis, in conjunction with the product's pre-launch. The much talked about product from the creative team of Mike Filsaime and Andy Jenkins opened its pre-launch training on June 18th. The first training video is scheduled to be released on that day, followed shortly by the second video the 21st. Four videosand or PDF training documents will be periodically released leading up to the two-week window in which the product will be sold, starting July 2nd.
The Video Genesis Review published by IMSoup goes into depth about the behind the scenes making of Video Genesis. It discusses the background of Mike Filsaime, who went from the auto industry to a well known name in internet marketing, as well as Andy Jenkins, who was able to turn his film production background into a million dollar internet marketing business.
In addition to discussing the two creators' backgrounds, the Video Genesis review goes into great detail regarding the creation of Video Genesis, and the method behind the much anticipated product. Both Filsaime and Jenkins point to the great success they've seen in using this system, and the review goes into detail about how this program can help their customers.
Video Genesis is a mastermind video training product that is designed to help marketers make the best and most effective videos possible. This product will help marketers decide the best type of videos to make for all kinds of different scenarios, with the ability to customize processes to fit their needs. Mike and Andy have put a lot of time and money into developing a quality product designed to help all kinds of people make the best and most effective marketing videos.
"We have spent about a million dollars, literally a million dollars, on testing the way that people react to our videos, and we have come up with what we call the 13 hero styles of video," Andy said in a recent video. "What we discovered is certain styles definitely work better depending on what you're trying to do."
This comprehensive all-in-one training for marketers is only available for a short time. Please refer to the Video Genesis Review on IMSoup.com for detailed information and to stay up to date on the pre-launch news about Video Genesis. Details are also available at the Video Genesis site, and special offers are sure to follow.
About IMSoup:
IMSoup.com is an online publication that aims to bring business owners, marketers and entrepreneurs the latest industry news pertaining to internet marketing.