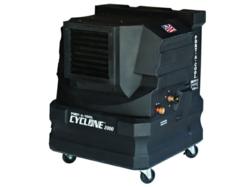 Atlanta, GA (PRWEB) June 20, 2013
With more than 45 years of experience in material handling and warehouse storage, Atlanta Pallet Rack is expanding its offerings to include a "cool" new solution for special air conditioning needs. Its new Port-A-Cool Evaporative units are designed to help with a variety of situations that arise in the spring and summer.
Atlanta Pallet Rack's owner, Peter Patel, explains, "If you're going to have a party in a tent, if your warehouse is too big to cool with an air conditioning unit, or if you need to work on your car but can't tolerate the heat, a Port-A-Cool is probably the best solution for you." Patel also says the units are affordable, as well as portable, because of the way they work. Each one has a large airflow capacity which allows efficient cooling, indoors and out.
Port-A-Cool units use the power of evaporation to cool closed-in spaces, whether large or small. In short, water is dripped over cooling pads and air is pulled through the device to create a 20 to 25 degree difference in temperature. In addition, Port-A-Cool can cool even large areas for about a dollar a day. Prices start at $499 for units designed to cool 500 square feet.
Atlanta Pallet Rack specializes in warehouse storage rack systems, material handling, metalworking equipment, and construction equipment. But it also offers appraisals, liquidations, asset recovery, auctions, relocation, rigging, transportation, industrial cleaning services, and demolition. Email sales(at)atlantapalletrack(dot)com or call 678-534-0450 for more information.
About Atlanta Pallet Rack:
Atlanta Pallet Rack provides nationwide distribution of construction equipment and warehouse storage systems. It specializes in material handling, pallet racking and metal shelving as well as beams, uprights and wire decks. Atlanta Pallet Rack is uniquely capable of designing customized solutions for immediate distribution, with one of the largest stock inventories in the U.S. To find out what Atlanta Pallet Rack can do for you and your business, visit http://www.atlantapalletrack.com.