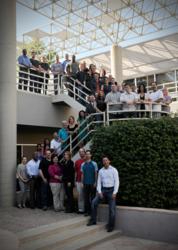 Scottsdale, AZ (PRWEB) June 20, 2013
Appointment-Plus, the worldwide leader in online scheduling software, is pleased to announce that it's been named a 2013 CareerBuilder Top Company to Work for in Arizona.
The inaugural program identifies the best places of employment in Arizona for the benefit of the local economy, businesses and workplace. It also promotes the state as an ideal place to work and live.
Appointment-Plus received recognition at a celebratory breakfast held earlier today at the Hyatt Regency Phoenix.
"We're honored to be recognized as a fantastic place to work and advance one's career," said Bob La Loggia, CEO of Appointment-Plus. "Our company truly values its employees and fosters an environment that encourages learning and success."
Founded by La Loggia in 2001, Appointment-Plus has experienced tremendous growth over the past few years as more businesses adopt online scheduling. It has quadrupled its staff size since 2010 and expects to add up to 20 additional employees by the end of 2013.
Among the benefits enjoyed by its employees are:

A generous personal time off (PTO) program.
Tuition reimbursement.
Gym membership reimbursement.
Catered lunches.
After-hour events, such as bowling tournaments.
"A proper work-life balance is important to our team members," said Jennifer Rojas, human resources manager. "We encourage all of our staff to take the time they need for family-related matters or events, such as recitals or school activities."
To learn more about Appointment-Plus career opportunities, visit http://www.appointment-plus.com/company/careers/.
About Appointment-Plus:
Launched in 2001, Appointment-Plus was the industry pioneer in online scheduling software, utilizing the software-as-a-service (SaaS) business model since its inception. Today, Appointment-Plus is the worldwide leader in mobile and online appointment scheduling software with three million appointments booked every month and nearly a billion dollars in commerce conducted annually through its system. Its Scheduling Cloud™ API also enables larger organizations to build custom applications on the powerful Appointment-Plus engine, while its integrated Marketplace allows businesses to easily interface with Microsoft Outlook Calendar, Google Calendar, Constant Contact, QuickBooks and other popular business tools to help businesses and organizations manage their operations more effectively, productively and successfully.