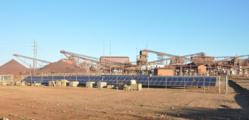 PROINSO is a reference of self-consumption installations
(PRWEB) June 19, 2013
The multinational company PROINSO, an international leader in the distribution of solar PV materials, in collaboration with African Solar Power, Proinso's exclusive partner for South Africa, has recently supplied modules and inverters for two new self-consumption solar PV projects in Africa, with a total power of 145kW. The two installations will supply electricity to an important iron ore mine in South Africa and the premises of the Namibian Development Corporation (NDC).
These new transactions confirm, on the one hand, the company's strong presence and its bid for Africa, a continent where PROINSO has nearly 20 Qualified Installers in its International Network and a commercial branch recently opened in South Africa.
On the other hand, they turn PROINSO into a reference of self-consumption installations, a type of installation that is enjoying increasing success internationally, as it optimises energy efficiency, reduces electricity bills and leakage from the grid and helps protect the environment.
Specifically, to the Assmang Khumani mine, in the Northern Cape province of South Africa, PROINSO supplied 100kW of Canadian Solar modules and SMA inverters, in cooperation with Renergy, one of the local Qualified Installers. The self-consumption installation will supply electricity to this important iron ore mine with a production of 10 million tonnes for export.
The other project PROINSO supplied PV materials to in Africa is a 45kW self-consumption installation that will supply electricity to the premises of the Namibian Development Corporation (NDC) in the city of Windhoek. In Namibia, PROINSO was supported by the local Qualified Installer Alensy.
The Corporation is one of only a handful of state-owned enterprises that has embraced the green revolution with the installation of a solar photovoltaic system at its premises. At the inauguration of the new system, NDC's representative said, 'We should learn to use our own financial resources and means to produce power." "This is why we are so happy that the NDC, as the driver of industrial action, has taken this bold step," he added, pointing at the fact that the system will cut down electricity bills.
Africa and Internationalisation
18 Qualified Installers are members of PROINSO's International Network in Algeria, Egypt, Senegal, Ivory Coast, Kenya, Namibia and South Africa as well. The International Network features 2,372 Qualified Installers in all 5 continents. Besides the recently opened branch in South Africa, PROINSO has delegations in Greece, Italy, USA, Brazil, UK, Spain, Canada, China, Australia, India, Thailand and Japan.
A reference in self-consumption systems
Last year, PROINSO began delivering and installing its first solutions for total or partial power self-consumption. These integrated installations include the technical solution (modules, inverters, structures, batteries, chargers), installation and maintenance services, provided with the support of the International Network of Qualified Installers, and project funding, in conjunction with banks.
The solution from PROINSO meets annual production needs with a model of distributed power generation. It is targeted at households, businesses, companies and small industries.
ABOUT PROINSO
An OPDE Group subsidiary, PROINSO specialises in the supply of PV modules, solar kits, inverters, structures and solar trackers, solar solutions for urban applications in public areas, vehicle recharging stations, self-consumption installations, stand-alone PV power systems and monitoring systems.
PROINSO has delivered over 1,115MW around the world, a record high that turns it into one of the world's leading companies in the sector, and the International Network of Qualified Installers, currently comprising 2,360 members, has played a key role in this achievement.
With international markets accounting for 88% sales, PROINSO has offices in Spain, Germany, Greece, Italy, USA, Great Britain, Canada, China, Brazil, Australia, Japan and India. Recently, the company opened a new branch in South Africa.//