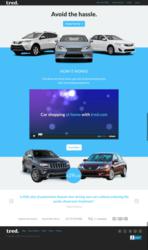 Whether it's helping remove the hassle for parents worried about an impatient toddler on the showroom floor, or eliminating anxiety for someone who dislikes negotiating a sales price, Tred delivers a more convenient way to try before you buy.
Seattle, WA (PRWEB) June 19, 2013
In fewer than five minutes, car shoppers with a computer, tablet or smartphone can now quickly arrange to test-drive their favorite brands at their home or office. Tred (http://www.tred.com) announced today a new, first-of-its-kind delivery service that eliminates all the pressures of making car-buying decisions on the showroom floor. Only Tred brings new cars directly to where consumers are comfortable -- on their own terms and turf, at the lowest possible price. Combining technology and relationships with trusted local auto dealers, the Washington State Association of Dealers of America and the Washington State Department of Licensing, Tred's new test drive and no haggle buying service is immediately available in the Greater Seattle/Bellevue area and will soon expand to additional cities in the U.S.
"People with busy schedules really value their time and hard-earned money, so we set out to make better use of both throughout the entire process of buying a new car," said Grant Feek, founder and CEO of Tred. "Whether it's helping remove the hassle for parents worried about an impatient toddler on the showroom floor, or eliminating anxiety for someone who dislikes negotiating a sales price, Tred delivers a more convenient way to try before you buy."
According to Polk/Autotrader, customers spend an average of 11.5 hours shopping for cars at dealerships, and according to the most recent J.D. Power Sales Satisfaction study, they spent an average of 4.3 hours purchasing cars at dealerships in 2011.
Tred: Car Shoppers Save Time and Money with Home Test Drives and a Kick-Started Purchase
Not only does Tred remove the need to visit the dealership prior to purchase, it also removes pricing negotiations and cuts purchasing time in half. Partnering with a network of trusted local auto dealers such as Michael's Toyota of Bellevue, Ford of Kirkland, Walker's Renton Subaru, Honda Auto Center of Bellevue and Lee Johnson Chevrolet, anyone can easily schedule a Tred test-drive of 1 or 2 popular vehicles.
For example, after researching online, Will Miceli and his wife Melanie Harned, two busy parents and professionals, narrowed down their purchase options to two vehicles --the Toyota Highlander and Honda Pilot. However, due to their busy schedules, it was difficult to find time to make it happen.
"Buying a new car is a big financial commitment but the last thing I want to do on a weekend is visit car dealers with our two kids in tow," Mr. Miceli said. "One Saturday we had a babysitter for a date-night and decided to stop by a car dealer to test-drive some SUVs. It was nice to compare our options, but we were not ready to make a decision, plus it was supposed to be a relaxing evening. When I heard about Tred, I got very excited. They brought a Toyota Highlander to our house, we put the kids car seats in the car, and had a pressure-free test-drive. It was a very relaxing way to buy a car knowing that it was a great fit for us and that we paid a haggle-free good price."
In addition, shoppers can order two vehicles like a Honda CRV and a Toyota Rav4 to conduct a side-by-side comparison of both vehicles at their home. This allows busy car shoppers to arrange bicycles in the trunk, strap the kids into their car seats for a trip to the grocery store, or see which one better fits in the garage to help determine which vehicle better accommodates their lifestyle.
Every automobile is delivered by a highly trained and dealer-independent Tred Auto Expert who can answer questions about any test-drive vehicle. Before the test drive, the shopper receives configuration information about the car being test-driven. Near the end of a 15-mile test drive, the Tred Auto Expert provides a packet of resources that makes the buying process at the dealership easy and transparent. The packet includes a showroom checklist that walks the shopper through "to do's" at the dealership, and information on dealer products such as warranty, maintenance and security programs. Shortly after the test drive, the shopper receives a price report that compares Tred's dealer price to multiple points of third-party market data such as KBB, Edmunds and Truecar. Shoppers can also arrange onsite trade-ins.
"As one of the biggest auto dealers in the state, we're always looking for ways to continuously meet and exceed the purchasing needs of our customers," said Erik Paulson from Michael's Toyota of Bellevue, WA. "Tred helps us bring our showroom to the front porch of busy families and professionals on their own terms, while also giving us an opportunity to earn that customer for life. We've already sold one car through Tred and look forward to selling many more."
To qualify for a Tred test drive, shoppers simply provide a current driver's license just as they would for any test-drive at any automotive dealer. Shoppers are asked to pay $19 per car delivered. If they offer their trade-in as collateral, they can even keep the new car overnight.
You can see a video on how Tred works here http://vimeo.com/66436810.
About Tred:
Tred offers a first-of-its-kind service for busy families and professionals that makes the auto buying experience faster and easier. Only Tred offers the convenience of test driving and evaluating new cars from the comfort of the buyer's home or office while offering big savings on many of the most popular makes and models. Earlier this year, Tred closed a $1.7 million seed round from Fraser McCombs Capital, Chris Sacca's Lowercase Capital, Maveron Capital, former Chairman and CEO of General Motors Rick Wagoner, TechStars' David Cohen, Great Oaks Venture Capital, and Founder's Co-Op. For more information, visit http://www.tred.com, like us at http://www.facebook.com/tredsite, or follow us at twitter.com/tred.
# # #
Tred and its respective logos are trademarks, registered trademarks, or service marks of Tred. Other products and company names mentioned are the trademarks of their respective owners.