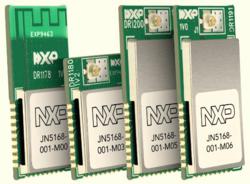 Eindhoven, Netherlands and Sheffield, United Kingdom (PRWEB) June 19, 2013
NXP Semiconductors N.V. (NASDAQ: NXPI) today announced the availability of a new range of small-footprint modules based on the ultra-low-power JN5168 wireless microcontroller. Supporting multiple network stacks including ZigBee® Home Automation, ZigBee Light Link, ZigBee Smart Energy, JenNet-IP™ and RF4CE, the JN5168 wireless modules are small in size – down to 16 x 21 mm – and offer very low transmit and receive power consumption. All modules have 256 kB flash memory, 32 kB RAM and 4 kB EEPROM, as well as best-in-class low-power sleep modes. An SPI interface allows the connection of additional external flash memory for applications that require Over-the-Air firmware updates, and all other main functions and I/Os of the chip, such as I2C, ADCs, UARTs and PWMs, are accessible.
Easily surface-mounted on motherboards, the JN5168 wireless modules come in a range of formats and output power levels, and are FCC, ETSI and CA approved. Wireless microcontroller modules now available include:

JN5168-001-M00 with printed antenna, featuring a new antenna design optimized for performance (15 mA TX, 17.5 mA RX)
JN5168-001-M03 with uFI connector – at 16 x 21 mm, the smallest wireless module in the range (15 mA TX, 17.5 mA RX)
JN5168-001-M05 9.5 dBm with uFI – a medium-power module designed specifically for the European and Asian markets for maximum efficiency (35mA TX, 22mA RX)
JN5168-001-M06 22 dBm with uFl (175mA TX, 22mA RX)
"The new JN5168 wireless modules simplify the development of wireless-enabled products for designers who don't want to undertake the actual RF design and testing themselves," said Thomas Lorbach, marketing manager, NXP Semiconductors. "Wireless communication based on IEEE 802.15.4 is redefining a wide range of consumer and industrial applications, and the JN5168 wireless modules provide an important entry point to building products for the Internet of Things."
Pricing and Additional Information
Recommended pricing for the JN5168 wireless modules starts from under US $8.00 per unit for the standard-power variants in volumes of 10,000 per year. Additional information on all JN516x products is available via NXP's newly launched Wireless Connectivity TechZone, which includes links to application notes, software development kits (SDKs), and other support-related resources.
Links

About NXP Semiconductors
NXP Semiconductors N.V. (NASDAQ: NXPI) provides High Performance Mixed Signal and Standard Product solutions that leverage its leading RF, Analog, Power Management, Interface, Security and Digital Processing expertise. These innovations are used in a wide range of automotive, identification, wireless infrastructure, lighting, industrial, mobile, consumer and computing applications. A global semiconductor company with operations in more than 25 countries, NXP posted revenue of $4.36 billion in 2012. Additional information can be found by visiting http://www.nxp.com.
Note to editors: JenNet-IP is a trademark of NXP Semiconductors. All other trademarks are property of their respective owners.
Forward-looking Statements
This document includes forward-looking statements which include statements regarding NXP's business strategy, financial condition, results of operations and market data, as well as other statements that are not historical facts. By their nature, forward-looking statements are subject to numerous factors, risks and uncertainties that could cause actual outcomes and results to be materially different from those projected. Readers are cautioned not to place undue reliance on these forward-looking statements. Except for any ongoing obligation to disclose material information as required by the United States federal securities laws, NXP does not have any intention or obligation to publicly update or revise any forward-looking statements after NXP distributes this document, whether to reflect any future events or circumstances or otherwise. For a discussion of potential risks and uncertainties, please refer to the risk factors listed in NXP's SEC filings. Copies of NXP's SEC filings are available from the SEC website, http://www.sec.gov.