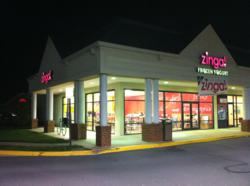 The Franchise business environment is stronger than it has been in the last 6 years.
Denver, CO (PRWEB) June 20, 2013
Zinga Franchise Group LLC, franchisor of Zinga Frozen Yogurt stores, has retained Boston area-based Firmitas to assist in national and international franchise development.
The move comes at a time when Zinga already has 290 stores in development in 12 states. Zinga has opened nine stores so far in 2013 and plans to have 18 more open by year's end.
"Bringing Firmitas on-board should provide even more momentum as we identify the type of multi-unit entrepreneurs who have the business savvy and enthusiasm needed to help grow our fresh frozen yogurt concept here and abroad," said Zinga President John Fitchett.
Firmitas has hit the ground running in the sales effort, according to founder and President Jay Hummer.
"We already are in conversations for potential area developers in India, China, Mexico and other countries," said Hummer. "And we have franchise candidates for several states across the country," he added.
Franchise candidates will be multi unit owners who already own other concepts and have the opportunity to put another business nearby their current locations, Hummer said. Candidates will come from many different industries all looking to find their entrepreneurial success with a brand that offers fresh and popular products, innovative marketing and category leadership and experience, according to Hummer.
"The Franchise business environment is stronger than it has been in the last 6 years," Hummer said.
About ZINGA
Established in early 2011, ZINGA! "The World's Best Frozen Yogurt," is growing quickly in the self-serve frozen yogurt segment. Zinga offers a wide variety of fat free and low calorie frozen yogurt flavors and over 50 delicious toppings; it is self-serve and sold by weight. All of Zinga's yogurt flavors meet the National Yogurt Association's criteria for "live and active culture yogurt." In addition to being delicious, yogurt provides many health benefits. Its franchise restaurant savvy leadership seeks successful franchise restaurant operators to become early entrants into the segment's fast-growing concept. Fitchett's lengthy career includes stints as area director, franchisee and vice president of development for large franchise restaurant chains. For more information about ZINGA and franchise opportunities, visit http://zingafroyo.com
About FIRMITAS
Firmitas Entrepreneurial Development searches the globe for exceptional concepts that can be successful both nationally and internationally.