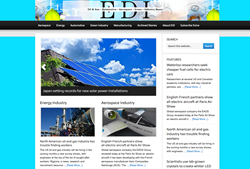 The University of Waterloo, Canada is researching nonotechnology alternatives to expensive platinum in fuel cells.
Toronto, Ontario (PRWEB) June 19, 2013
EDI Weekly, the concise digest of industry's most compelling news and events, reports that researchers at the University of Waterloo, and a group of US academic and industry partners, are working on a cheaper alternative to the platinum-based fuel cell that is currently the norm for electric cars. If they are successful, the head of the Waterloo team says they could finally make a fuel cell that is an affordable alternative to the internal combustion engine. And a British aerospace company, working with a French counterpart, has unveiled an all-electric aircraft at the world's premier aerospace industry event, the Paris Air Show. Designed as a trainer aircraft, the small plane has a number of fuel- and energy-saving innovations that could have big implications for the aviation industry. In Canada, the energy industry faces labour shortages and difficulty attracting engineers. The latest industry news in brief at EDI Weekly.
"Waterloo researchers seek cheaper fuel cells for electric cars"
For years, researchers in academic and industrial laboratories have sought a way to make an economical hydrogen fuel cell for electric cars. So far, the efforts have failed. Platinum, one of the most expensive of elements, remains the material of choice for use as the catalyst in the standard hydrogen fuel cell. But the US Department of Energy has said that a platinum-based fuel cell would have to use four times less of the super-expensive element in order to be competitive with fossil fuels. A team at the University of Waterloo, with funding from the Department of Energy, hopes to finally solve the problem. They are exploring nanotechnology alternatives that would be a fraction of the cost of platinum. Read more . . .
"English-French partners show all-electric aircraft at Paris Air Show"
A British aerospace firm, EADS, and its French partner ACS, have collaborated to produce an all-electric aircraft, unveiled this week at the Paris Air Show. The small plane is designed to be a training craft, propelled by two electric motors mounted on the fuselage, with battery packs in the wings. Another innovation that could be a huge cost saver for the aviation industry is the development of electric powered landing gear. Using an aircraft's jet engines to move it while on the ground is hugely inefficient and expensive, with estimates as high as 5 million litres of fuel per plane per year wasted this way. With electric-powered landing gear, companies could save millions in fuel. Read more . . .
"North American oil and gas industry has trouble finding workers"
Despite high wages and plenty of jobs available, the North American oil and gas industry, particularly in Canada, is short of qualified workers, mainly engineers. A survey found that nearly half of companies in the oil and gas sector planned to hire this year, but there has been no increase in the number of applicants. As well, Canadian oil and gas industry companies have not been successful in attracting younger workers to replace those who retire. This could present big challenges as the industry seeks to expand production in coming years. Some of the jobs needing to be filled include petroleum engineers, pipeline engineers, electrical engineers and reservoir engineers. Read more . . .
About EDI Weekly
EDI Weekly is a digest of industry news from around the world, covering

Aerospace industry
Green and environmental technologies industry
Energy industry including oil & gas
General manufacturing innovations and news