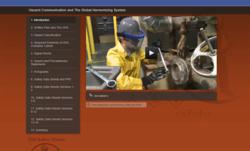 Novi, MI (PRWEB) June 20, 2013
Mastery Technologies continues to release and update training course titles with its third generation, Video On Demand (VOD) format. This improved VOD format is compatible with all mobile devices and operating systems, which now ensures employees are better able to complete training assigned to them at their own pace and convenience, on a multitude of devices.
The following courses are new Video On Demand Courses:

Driving: Heavy Trucks: Staying Alert and Fit to Drive
Microsoft Office 2010 and Windows 7: What's New in Office 2010?
Microsoft Office 2010 and Windows 7: What's New in Excel 2010?
Microsoft Office 2010 and Windows 7: What's New in PowerPoint 2010?
Microsoft Office 2010 and Windows 7: What's New in Outlook 2010?
Team Building: Pit Crew Challenge: Driven to Perform
Twelve Angry Men: Teams That Don't Quit
Work Teams and the Wizard of Oz
The Power of Teamwork: Inspired by the Blue Angels
We also have begun updating our existing Video On Demand titles, including:

Hazardous Waste: Management and Minimization - Large Quantity Generators
Hazardous Waste: Management and Minimization - Small Quantity Generators
Electrical Safety: 2012 NFPA 70E Arc Flash Training
Hazard Communication and The Global Harmonization System
In the coming months, Mastery will continue to release new and updated training courses in this mobile-friendly VOD format. Mastery's VOD courses contain the entire instructional presentation of a training course. All of Mastery's VOD courses include a topical index, displayed on the side of the video when not in full-screen mode. Most VOD courses end with a quiz, including feedback on questions and answers. Narrated quizzes may be included, as well as additional resources such as downloadable workbooks and job aids.
VOD courses provide large images which appear sharp when viewed in a normal video window. Full screen display sizes are provided, delivering clear audio and sharp video, even when projected or displayed on HDTV screens. Video On Demand titles play on all devices, including desktops, smart phones and tablets.
About Mastery Technologies Inc.
Mastery Technologies established the e-learning industry's first Training Content Network. Mastery partners with leading video content providers to co-produce the largest, standardized, workplace e-learning library available. Mastery goes beyond connecting customers with content, by pro-actively supporting both customers and content partners. In this way Mastery fulfills its mission of helping build more successful, effective and amazing organizations.