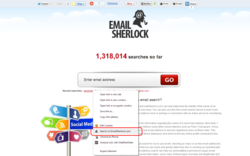 Boston, MA (PRWEB) June 20, 2013
EmailSherlock.com is the leading provider of information connected to virtually any email address that users may be receiving unwanted information from. With the recent release of both Android and iPhone apps and Chrome Plugin for the site, the public now has more choices than ever to determine who is emailing them and why – no matter where they are located.
Acting as their own personal investigator, the search engine at EmailSherlock allows visitors to simply enter the email address in question for more information about its origin and owner. More than 1 million searches to date have resulted in visitors discovering the identity of the owner of an email address, and can now do so on the move using their smartphones.
Connect to Their Social Network
Search results at the site provide information about the owner of an email address based on whether the address is found to be connected with any of several popular social and professional networking sites. These include Aboutme, 30 Boxes, Facebook, Flickr, Foursquare, Vimeo and Friendfeed. If any profile on one of these sites uses the email address in question, visitors can easily visit it and learn even more information about them. This can include physical address, friends and family, professional acquaintances, contact phone numbers and even their full name.
Research Their Background
EmailSherlock also provides results found in public records databases. This can prove to be vital information for a user, as arrest records, criminal records and court records can help them determine whether an individual they have yet to meet may be dangerous to deal with. Vital records such as birth and marriage records can also help determine if someone is being truthful or not about their past – online daters and even curious acquaintances can use this information to determine someone's trustworthiness.
Are They Legit?
In addition to providing users with information regarding the habits of the owner of an email address, EmailSherlock will validate it and tell them if it really exists or has been fabricated. This allows them to spot scams and spam email sooner than ever before. Furthermore, when an email address is searched, users have the option to leave a comment about their experiences with that address and even post it to Facebook. This way, a new searcher can read these comments and determine if others have also received similar spam or scam messages from the owner.