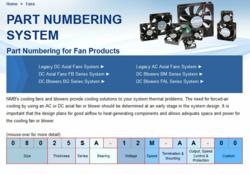 The new part numbering system identifies immediately the most important parameters for the selection of a cooling fan.
Chatsworth, CA (PRWEB) June 20, 2013
NMB Technologies Corporation, a Minebea Group Company, revealed today the adoption of a new part numbering system for their AC and DC axial cooling fans, as well as DC blowers.
The new part numbering system eliminates the difficulty of deciphering the size, thickness and even voltage of NMB's cooling fans. It immediately identifies the most important parameters necessary for an engineer to select the right cooling fan for his application. For example, NMB's new part number 12038VA24 will represent a 120mm size fan, 38mm thick, V series, ball bearings, 24 volts.
The company announces that the new part numbering system will be used only on new designs and new manufacturing, and will not touch the legacy part numbers that are currently in the sales channel.
About NMB Technologies Corporation ‐ NMB Technologies Corporation, a Minebea Group Company, is the world's largest manufacturer of miniature precision ball bearings and a volume leader in the design and manufacturing of precision electro-mechanical components, including cooling fans and blowers, precision small motors and mechanical bearing assemblies, as well as a total solutions supplier of backlight, and LED programmable drivers. NMB products can be found in the personal computing, networking, telecommunications, home entertainment, home electronics, and automotive, medical and industrial markets. For more information on NMB Technologies Corporation visit: http://www.nmbtc.com or contact us directly.