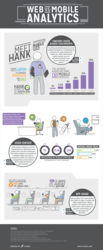 Companies that use web analytics to understand mobile customers are blind to the opportunities that mobile presents
Seattle, WA (PRWEB) June 20, 2013
Medio, http://www.medio.com, the world's largest provider of predictive app analytics and the leader in optimizing the lifetime value of mobile customers, announced today the availability of a new whitepaper and infographic designed to educate marketers about the unique differences between web and mobile analytics. The whitepaper and infographic also give meaningful insight into how marketers can use mobile analytics to engage with today's multi-device, mobile consumer.
The whitepaper, "Web vs. Mobile Analytics: What Web Analytics Won't Tell You about Your Mobile Customers," delves into unique data points marketers must consider when identifying opportunities to connect with mobile customers. A companion infographic distills the whitepaper into an easy-to-understand and visually engaging format. The infographic also includes statistics on the projected growth of global Internet traffic from mobile devices and the projected growth of mobile commerce.
"Traditionally, businesses have used web analytics based on cookies to track and understand their Internet users; however, mobile consumers have many more unique features when compared to their PC counterparts," said Rob Lilleness, president and CEO of Medio. "Companies that use web analytics to understand mobile customers are blind to the opportunities that mobile presents."
Medio also announced the release of the Medio Promotion Manager, a new component of the company's 1 to 1 Mobile Marketing Suite, which is designed to create personalized relationships with mobile customers. A demo video for the Medio Promotion Manager can be found here.
About Medio
Medio is the world's largest provider of predictive app analytics and the leader in optimizing the lifetime value of mobile customers. The company currently tracks and analyzes over one billion events every day. Utilizing a cloud-based, SaaS infrastructure, Medio leverages predictive models to present over four billion recommendations each month to mobile users of the world's largest brands including Rovio (Angry Birds), Verizon, T-Mobile and the Otto Group. By turning big data into business action, Medio optimizes the acquisition, retention and monetization of mobile users and therefore their lifetime values. The company is focused on retail, media and mobile operators. Headquartered in Seattle, Medio is profitable and privately held. Medio's investors include Accel Partners, Frazier Technology Ventures, Trilogy Partners and Mohr Davidow Ventures. For more information, visit http://www.medio.com.