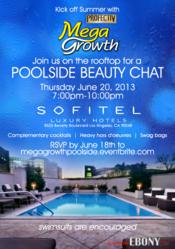 We're excited to be able to introduce the MegaGrowth brand to the LA community in such an intimate yet impactful way and we're happy that EBONY.com is helping us do that
LOS ANGELES, CA (PRWEB) June 20, 2013
MegaGrowth, an anti-breakage system created by Strength of Nature to strengthen and protect both relaxed and natural hair, is hosting a posh poolside beauty mixer aimed at celebrating the unique beauty of African-American women while educating them on summer hairstyles, trends and product benefits. The event, co-hosted with EBONY.com will take place from 7:00 PM – 10:00 PM on June 20, 2013 at the Hotel Sofitel Los Angeles at Beverly Hills located at 8555 Beverly Blvd, Los Angeles, CA 90048.
Guests are encouraged to come dressed in their most fabulous swim attire and will be able to mix and mingle with LA's hottest editors, nosh on gourmet hors d'oeuvres, enjoy complimentary cocktails and take home MegaGrowth swag bags. "We're excited to be able to introduce the MegaGrowth brand to the LA community in such an intimate yet impactful way and we're happy that EBONY.com is helping us do that," says Strength of Nature Global National Marketing Director, Charlene Dance.
In addition, EBONY.com is offering readers the chance to win goodies from Strength of Nature through Friday, June 21st. Entrants can Instagram their best summer hair picture and hashtag #beautifullybrown, to win a MegaGrowth summer hair gift pack.
MegaGrowth's poolside beauty chat is by invitation-only and RSVP is mandatory.
To get product information, find out about contests and giveaways, ask questions, or simply keep up with MegaGrowth in real-time, take to Twitter and follow @MegaGrowth and "Like" the brand on Facebook at http://www.facebook.com/MegaGrowth.
ABOUT MEGAGROWTH
For over a decade, Profectiv-MegaGrowth scientists and cosmetologists have been working together to understand the fundamental causes of hair and scalp damage, and how to prevent it. We've done extensive research, countless interviews and salon evaluations, while spending thousands of hours in our labs creating exclusive formulas that protect the hair from damage, repair existing damage and optimize hair health. Whether relaxed or natural, all Profectiv-MegaGrowth formulations are focused on offering customized solutions that help prevent hair damage by strengthening hair and protecting against the daily stresses of heat styling, weaves, hair color, relaxers and hair style transitions. The result…Stronger, longer, healthier looking hair, with a smooth, sleek finish. For more information, visit http://www.MegaGrowth.com.
ABOUT STRENGTH OF NATURE GLOBAL
Strength of Nature Global, LLC (SON) is the choice manufacturer of innovative hair care solutions that specifically address the critical hair care needs, styling, and desires for consumers of color. The company's brand portfolio includes African Pride, Dream Kids, Elasta QP, SoyOYL, Profectiv, Relax & Refresh, GrowthRenew, MegaGrowth, SmartPerm, Strong & Healthy, and Profectiv Professional. SON products are sold primarily at beauty supply stores but can also be purchased as participating salons, drugstores and leading discount retailers. For more information, visit http://www.strengthofnature.com.