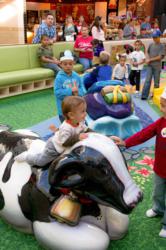 Our soft play parks are designed to provide instant fun, safely done, said Michael DeZaio, President of Center Stage Productions.
Fair Lawn, NJ (PRWEB) June 20, 2013
Each June, the National Safety Council encourages organizations to get involved and participate in National Safety Month. It marks the beginning of the summer when children are out of school and visit soft play parks for exercise and fun. Center Stage Productions, a leading designer and manufacturer of soft play equipment for shopping centers and other public destinations, is embracing the principals set forth by the National Safety Council and encouraging families to play it safe this summer.
Center Stage Productions offers the following tips for soft play area safety:

Check the safety rules and guidelines signage upon entering a soft play area.
Actively supervise children while they are playing on soft play equipment. Adult supervision can help prevent injuries by ensuring that kids don't engage in unsafe behavior.
Teach young children to create a safe environment for themselves and remind them to take turns with others on the play equipment.
Kids should never climb up the front of the slide. They should always slide down feet first and sitting up, never head first on their back or stomach. Only one person should slide down at a time.
Instruct children to use both hands when climbing on play equipment. Be sure they are aware of a safe way down.
Dress children appropriately for play. Remove necklaces, purses or drawstrings that could get caught on play equipment.
Remind kids to take a break for a drink of water in order to avoid dehydration.
Play is an essential component of healthy development in children. The summer months provide children with the opportunity to get many hours of playtime and exercise. Center Stage Productions' soft play parks are designed to let kids have fun while developing their social and motor skills within a safe play environment.
"Our soft play parks are designed to provide instant fun, safely done," said Michael DeZaio, President of Center Stage Productions.
Designed with children in mind, Center Stage Productions puts several safety measures in place while creating its soft play parks. Play pieces are fabricated with high-quality, super soft foam surfaces that are smooth and protective of children. The size of each play piece is just the right scale for children with grab points positioned where playing children would expect to find them.
A proper play surface reduces injuries, and the severity of injuries, that occur when kids fall from play equipment. Center Stage's soft playground equipment is anchored securely atop soft, safe flooring, which exceeds the American Society for Testing and Materials' (ASTM) standards for drop and fall ratings, ultimately protecting children and keeping them safe. Indoor play areas use heavily padded flooring specially engineered to cushions falls. Outdoor play areas use impact absorbing poured rubber surfacing with a durable wear layer along with a cushion layer to give kids a safe landing.
"Several safety features are incorporated into every play park we create, so kids can play more and parents can worry less," concluded DeZaio.
About Center Stage Productions
Center Stage Productions, based in Fair Lawn, NJ, custom creates a range of promotional environments including modular barricades, seasonal décor, festival lighting and children's soft play areas for shopping centers, retailers, airports, amusement parks, museums, zoos and more. Center Stage Productions' innovative designs have been created for hundreds of destinations across the United States and the world. In business for nearly 30 years, Center Stage Productions' comprehensive services include design, planning, production, transportation, management and operations. For more information, please visit http://www.cspdisplay.com or contact Brenda Tietjen at btietjen(at)cspdisplay(dot)com.