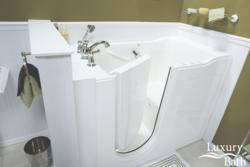 Glendale Heights, IL (PRWEB) June 21, 2013
Luxury Bath bathroom remodeling dealer and owner of Oak Creek Plumbing, Dan Callies was featured in BizTimes Magazine earlier this month. Callies, who owns and operates Oak Creek Plumbing in Oak Creek, Wisconsin, spoke of his successful bathroom remodeling business and current news within the company. Besides offering plumbing services for Southeastern Wisconsin, Oak Creek Plumbing provides Luxury Bath's affordable bathroom remodeling products and services.
According to Callies, aging in place solutions in bathroom remodeling are in high demand, and continue to grow. "Taking the tub out and putting a walk-in shower is more popular now than ever before," said Callies.
Within the past 3 years the demand for aging in place solutions has climbed dramatically for Oak Creek Plumbing, according to Callies. Walk-in tubs and showers are two age in place solutions which now make up 30 to 40 percent of his bathroom remodeling business. "We are doing more walk-in bathtubs for the folks who want to stay in their home longer and be safer," said Callies.
Aging in place solutions enable adults to live safely and more independently in their own homes for as long as possible. Bathroom remodeling company Luxury Bath provides easy to maintain tub to shower conversions, walk-in tubs, and walk-in showers that allow bathers to easily maintain a desirable and healthy lifestyle.
For other top Luxury Bath dealers who provide affordable aging in place solutions and other bathroom products, visit LuxuryBath.com.
About Luxury Bath
Luxury Bath (http://www.luxurybath.com) has been providing one-day bathroom remodeling updates and ideas since 1991. Supplying over 900 different bathroom remodeling companies across North America, Luxury Bath offers customers new bathroom ideas and provides high quality affordable bathroom remodeling products.
About Oak Creek Plumbing
Oak Creek Plumbing (http://www.oakcreekplumbing.com) located in Milwaukee, Wisconsin, has been providing Southeastern Wisconsin with plumbing services for more than 35 years. Oak Creek Plumbing offers experienced technicians that are factory certified to ensure professional workmanship and years of dependable service. In addition to array of plumbing services, Oak Creek Plumbing also provides superior kitchen and bathroom remodeling.
###