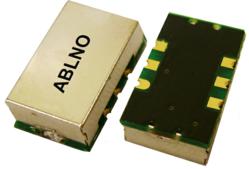 Rancho Santa Margarita, CA (PRWEB) May 07, 2013
A globally preferred, leading supplier of frequency control and magnetic components, Abracon Corporation introduces its ABLNO series of Low Cost, Ultra Low Phase Noise Fixed and Voltage Controlled Oscillators.
"ABLNO series of XOs and VCXOs is targeted for Ultra Low Phase Noise requirements associated with satellite modem architectures and frequency upconverters into the K-Band. Other phase noise sensitive applications, including phase locked loops and RF transmitters, can take advantage of the exceptional close-to-the-carrier phase noise of the ABLNO series. With guaranteed phase noise performance of -155dBc at 10kHz offset from 100MHz carrier, these devices offer a low cost precision solution for the RF designer," explains Syed Raza, Director of Engineering at Abracon Corporation.
ABLNO devices will initially be offered at 80MHz, 100MHz, 125MHz and 156.25MHz. Additional frequencies are available upon request.
Other potential applications for these solutions include WiMax, LTE, BTS, CATV, LAN, LMDS and Point-to-Point communication networks.
Key features include:

80MHz to 156.25MHz available carrier frequency
-40ºC to +85ºC operating temperature range
A typical frequency stability of ±12 ppm over temperature with guaranteed overall error budget of ± 28ppm, all inclusive over a 10-year product life
A minimum guaranteed pull ability of ± 28ppm in VCXO configuration
Excellent phase noise, harmonics and spurious content
Low cost (< $10.00 at 1,000 units for 100MHz solution)
ABLNO series will be available through Abracon's Global Distribution partners by the end of 2013's second quarter.
Abracon Links

For technical assistance with this product, please contact Abracon Corporation at tech-support(at)abracon(dot)com.
About Abracon Corporation
Abracon Corporation was established in 1992 with the vision of becoming a top tier global manufacturer of Frequency Control, Signal Conditioning, Clock Distribution and Magnetic Components with local design and technical support. Abracon provides its customers with high quality products, competitive pricing, timely delivery, reliable engineering and technical support, plus production flexibility worldwide.