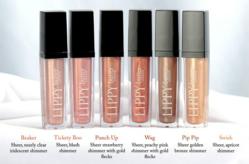 (PRWEB) May 09, 2013
butter LONDON Canada announces Summer 2013 LIPPY Shimmer, a lip gloss collection of chic shades and twinkly textures that accentuate your glow while adding a touch of whimsy.
This season is all about ramping up your natural beauty. LIPPY Shimmer's sheer hues in blush, apricot, peach, strawberry, golden bronze and an iridescent clear gloss add a touch of whimsy to your look that perfectly garnish any sundress or sunnies. The LIPPY Shimmer glosses all feature a light vanilla scent and sheer, sparkling coverage.
Shades in the LIPPY Shimmer collection include:
Beaker- Sheer, nearly clear iridescent shimmer
Tickety Boo - Sheer, blush shimmer
Punch Up - Sheer strawberry shimmer with gold flecks
Wag - Sheer, peachy pink shimmer with gold flecks
Pip Pip - Sheer golden bronze shimmer
Swish - Sheer, apricot shimmer
The butter LONDON girl is a suitcase full of contradictions – pairing leather and lace, sporting ripped jeans but carrying a Chanel bag - she's original and irreverent; not afraid to buck the system – at least where fashion is concerned! Though she's a bit naughty and cheeky, she is equally independent, in-the-know, and savvy. She believes in colour and couture, and is not afraid to take a fashion risk – be it a bright nail, or a full-on leopard jumpsuit.
butter LONDON is distributed by Integral Sense Brands in Canada. Integral Sense Brands was born out of consciousness to offer only the finest premium, certified organic, non-toxic, personal care products available. A distributor of brands such as butter LONDON, John Masters Organics, Antipodes Nature, Adara, and SAMA, their beauty categories available include: haircare, skincare, bodycare, lacquers, cosmetics, and makeup.