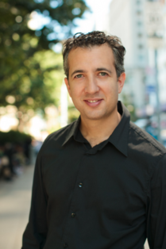 New York, NY (PRWEB) May 10, 2013
Steven Winter Associates, Inc. (http://www.swinter.com) is pleased to announce that Ryan Merkin, Senior Vice President and Director of the firm's Multifamily Energy Services Group, is a finalist in the category of Reformed Gas Guzzler for the prestigious EBie Award presented by the Urban Green Council. Winners and their award categories will be announced at a gala event taking place on June 19, 2013 at the Hard Rock Café Theater in New York City.
Mr. Merkin, along with team member Hamid Lekic, Mechanical Engineer at Steven Winter Associates, and partners Allan Arker, President of The Arker Companies, Daniel Moritz, Principal at the Arker Companies, Ariel Aufgang, AIA, Principal at Aufgang + Subotovsky Architecture and Planning, and Gregg Giampolo Principal at All Systems Cogeneration, will be recognized for the substantial improvements in energy efficiency and sustainability made to the Seaside Plaza Apartments in Staten Island, New York.
About Seaside Plaza Apartments
In the fall of 2010, Steven Winter Associates was challenged with the task of significantly reducing energy consumption at the Seaside Plaza Apartments. The 256-unit housing complex was awarded $287,500 by the New York State Energy Research and Development Authority (NYSERDA) to install a combined heat and power (CHP) system that will protect the facility from power disruptions during emergencies.
Located just south of the Verrazano Bridge and within 1,000 feet of the shoreline and subsequent flooding from Superstorm Sandy, the master-metered complex underwent a deep energy retrofit, including the installation of cogeneration with automatic backup power. Fortunately, the complex did not lose grid power in the days following the storm; had grid power gone down, the automatic backup capability of the cogeneration unit would have kept the building operational with essential services including heat and hot water.
Final results of the retrofit show significant source energy reduction, mainly due to electricity offset from the cogeneration unit and reduced electricity. Insulation and tightening of the building envelope, a vastly improved control system and low-flow fixtures also led to reductions in heating and domestic hot water.
Steven Winter Associates' Second Consecutive Nomination
Seaside Plaza Apartments marks Steven Winter Associates' second project selected as a finalist for the prestigious awards. The first annual EBie awards, held in June of 2012, recognized the renovations completed for the Carlyle Towers, a luxury condominium located in Cliffside, New Jersey. Led by Marc Zuluaga, Vice President and Director of the firm's Multifamily Energy Services, the high performance building earned the Verdant Brainiac award, which recognizes the most innovative green renovation project, particularly one that overcame significant barriers, such as cost, institutional or technological obstacles.
"In contrast to the hype that often surrounds the construction of new buildings, projects that focus on improving the performance and efficiency of already existing buildings often go unrecognized. It is an honor for SWA's contributions to green building projects to receive this recognition and to be selected as a finalist for the second consecutive year," said Ryan Merkin. As Senior Vice President and Director of the Multifamily Energy Services Group, Mr. Merkin provides sustainable design, retrofit and operational services for both market-rate and affordable housing. His energy management responsibilities include portfolio utility analysis, energy auditing, implementation design, and construction administration. His sustainability work supports LEED® for Homes™ and LEED® for New Construction™, Enterprise Green Communities and ENERGY STAR® Multi Family High-Rise certifications.
The Goal of the EBies
The EBies consist of an array of awards conferred by the Urban Green Council on high performing existing buildings and the people who make those projects possible. Projects are awarded on the basis of "measurable improvements in performance," whether through renovations, retrofitting, retro-commissioning, upgrades, tenant or building operator education, or improvements in operation and management.
The goal of the EBies is both to shine a light and place a premium on the work performed on existing buildings nationwide that often goes unnoticed or is seen as pedestrian, in comparison to the glamour of designing and constructing new buildings. While awards and accolades for the creation of new high performing buildings are plentiful, the area in which the most energy can be saved is in improving buildings that already stand.
The Urban Green Council
A non-profit organization established in 2001, Urban Green is funded by contributions from foundations, its 1,100 members, and over 50 corporate sponsors. The organization's goal is to help transform the built environment in New York City with models that can be replicated in urban centers nationwide.
Tickets for the event can be purchased through the Urban Green Council's website.
About Steven Winter Associates, Inc.
Steven Winter Associates, Inc. provides research, consulting and advisory services to improve commercial, residential and multifamily built environments for private and public sector clients. We specialize in energy, sustainability and accessibility consulting as well as certification, research & development and compliance services. Our engineers and architects have led the way since 1972 in the development of best practices to achieve high performance buildings. As a matter of course, we collaborate with our clients to produce the most cost-effective and innovative solutions. For more information, visit http://www.swinter.com.