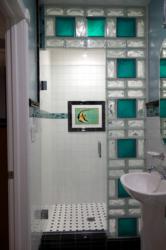 "Gone are the days of the "basic" glass block window or shower wall," explains Mike Foti, President of Innovate Building Solutions. "Today, there are multiple sizes, shapes & cool designs to create a dramatic look."
Columbus, OH (PRWEB) April 30, 2013
When most people think of a glass block window, shower or wall they envision square block units stacked on top of each other - functional but not very exciting. The standard set-up is now making way for jazzy, fashion-forward ideas utilizing different sizes, patterns and colors. Below are 5 tips to make your next glass block project "pop". "Gone are the days of the "basic" glass block window or wall," explains Mike Foti, President and CEO of Innovate Building Solutions. "Today, the products are versatile as well as gorgeous. We can supply and install blocks of multiple sizes and shapes, and include units that are frosted, etched, or in practically any color of the rainbow. The finished look is absolutely show-stopping."
How can you achieve the look of your dreams?
Tip #1: Turn the block on its side. If you like the look of trendy subway tile? Now, you can have a similar presentation with glass block. When you see "typical" blocks put together, they are, in most cases, either square or vertical in their orientation. Consider placing the block horizontally instead. This provides a fashion forward effect and can also make a small space seem wider.
Tip #2: Create a banding effect with 4" x 8" and 8" x 8" blocks. Alternating rows of 4" x 8" blocks in an 8" x 8" design can create a type of "accent" course to make a window or wall stand out.
Tip #3: Combine patterns and colors. Using the right color can create a calming (or vibrant) feel in a space. Consider accenting your project with different patterns of blocks, or add inserts of subtle frosted glass or vibrant colored glass blocks to make your design one-of-a-kind.
Tip #4: Create a kaleidoscope by mixing glass block sizes with color. Attract the eye with a variety of block sizes. For instance, a design might combine 6" x 6", 6" x 8" and 12" x 12" units for a custom-made, modern finish. Inserts of colored block can top off the project for a design that is all your own.
Tip #5: Use shaped blocks to turn the corner of your project. With the introduction of curved and finishing end blocks, it is now possible to create shaped partition walls and showers that would be difficult to nearly impossible to accomplish with other glass shower wall products.
If you're looking for an enduring, functional product with stunning beauty, glass block designs in a variety of shapes, sizes and finishes are a premier option. For more information, contact Mike Foti at Innovate Building Solutions, a nationwide supplier and regional installer (in Cleveland, Akron & Columbus Ohio) of glass blocks, bath and shower systems and a bathroom remodeling contractor. Divisions of Innovate Building Solutions are Super Service Award winners through Angie's List, and have won the Consumer's Choice Award. The company is accredited by the Better Business Bureau. Mike Foti is also a Certified Aging in Place Specialist (CAPS) though the National Association of Homebuilders. He can be reached at 216-310-1074, or via email at mikef(at)innovatebuildingsolutions(dot)com.