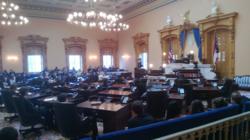 I am confident that the newly-elected JSA leadership has what it takes to spread JSA more widely among their peers, and to carry on our mission of teaching young people the democratic process.

-Elizabeth Ventura, JSA Senior Program Director
Washington, DC (PRWEB) April 30, 2013
The Junior State of America (JSA) held its annual Spring State civic education conferences across the country in April, marking the end of a great academic year of intelligent debates, educational simulations, and passionate civic activism. This year's Spring State conventions were held in Oakbrook, Illinois, Houston, Texas, Los Angeles, California, Cherry Hill, New Jersey, Orlando, Florida, Santa Clara, California, Columbus, Ohio, Redmond Washington, Meriden, Connecticut, and Phoenix, Arizona. Over 3,800 high school students were in attendance nationwide.
The convention theme, "The future of Freedom: Rights, Revolution, and Renewal," centers around the ever-changing world that we live in, and both the domestic and foreign influences that affect the freedom billions around the world enjoy. The debates which took place across all ten conventions included: Resolved, that drone warfare is a violation of human rights, Resolved, that the Federal Assault Weapons Ban be reinstated, and a discussion group about the 21st Century American Identiy.
The Spring State conventions also had an impressive lineup of keynote speakers, who shared their knowledge of politics, the media, and foreign affairs with the students. Of particular note were US Rep. John Mica (R-FL 7th District), US Rep. Bill Foster (D-IL 11th District), and Journalist, Author, and host of Fareed Zakaria GPS, Dr. Fareed Zakaria. "Dr. Zakaria was a great speaker because he discussed major issues we all wonder about, such as terrorism, and explained them in a way we all understood. He engaged our questions and presented us with information in relatable and unique ways," said Mid-Atlantic Governor Simone Klein.
One of the most important activities of each weekend was the election, where students chose their leadership for the upcoming year. In addition to the Governor, who serves as a part of JSA's leadership on the 10-member Council of Governors, JSA states elected a variety of other officers, including Lt. Governors, Regional Mayors, and Assembly Representatives. "I am confident that the newly-elected JSA leadership has what it takes to spread JSA more widely among their peers, and to carry on our mission of teaching young people the democratic process," said Elizabeth Ventura, JSA Senior Program Director.
As the school year programs end, many students look forward to a summer filled with JSA's summer programs. Students from JSA year-round programs will be joining the JSA summer class at Georgetown University, Princeton University, Stanford University, the University of Virginia, and Capital Normal University in Beijing, China. A limited number of places are still available in JSA's summer class, and interested students can apply to summer schools or institutes here.
Junior State of America (JSA): Providing civics education and leadership programs for nearly 80 years, JSA is the largest student-run organization in the United States. School-year programs take place in more than 450 secondary schools in 35 states, with more than 10,000 members. The JSA program is supported by the Junior Statesmen Foundation Inc., a 501(c)(3) tax-exempt educational corporation, which provides guidance to JSA's student leaders. It has offices in San Mateo, Calif., and Washington, D.C. More information is available at http://www.jsa.org/ or jsa(at)jsa(dot)org.
###