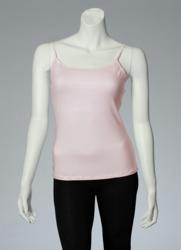 "I couldn't find anything with the quality I expected and features I really wanted. So, I decided to develop Tank Essential," said founder Susan Lapsley.
Sacramento, CA (PRWEB) May 14, 2013
Tank Essential, the go-to online custom tank top and cami source for women, is expanding its product line to add the color pink to its custom options - just in time to dust off the warm weather wardrobe. Tank Essential has created the ultimate go-to tank that is just right for every personal preference. Tank tops are the universal item for any outfit and provide extra coverage and support. Tank Essential created its custom "Tank Builder" to allow customers to create a garment that is designed to fit an individual woman's needs. Tank Essential products are high-quality and affordable with prices for a custom fit tank top ranging from $25 to $30 and no charge for shipping.
"I wear a tank or cami almost every day whether it is visible to the world or not," explained Tank Essential founder, Susan Lapsley. "I was fed up with tanks only lasting a few washes before the stitching gave out or it shrunk and became uncomfortable to wear. After extensive research, I couldn't find anything with the quality I expected and features I really wanted. So, I decided to develop Tank Essential."
Tank tops never go out of style as they are a true staple of a woman's closet. A simple well-fitting tank top will go with anything from a great pair of jeans to any style skirt, shorts or pant. They are meant for layering so a Tank Essential tank transitions beautifully to any weather year-round.
"The Stylist Online is thrilled about Tank Essential's first true color option; pink," said Amy Wister, owner and founder of The Stylist Online. "It's a cheery hue for your everyday wardrobe and it's just in time for Spring. Don't miss out on your perfect custom tank. There is a fit for every body type."
To properly build a Tank Essential custom fit tank or cami, TankEssential.com customers get to experience the Tank Builder where they can choose their:

Neckline (v-neck, scoop or high neck)
Length (thigh, bum or hip length)
Strap (spaghetti or 1-inch wide)
Bra support (currently either a shelf bra or no support)
Color (black, white and pink)
Additional colors, new options for bra support and other features will be added in the future. Tank Essential tank tops are manufactured in the U.S.
About Tank Essential
Tank Essential provides women with high quality tank tops that are customized for the individual and serve as the foundation to any outfit. This affordable yet high-quality tank is also assembled in the U.S. so quality standards are consistent and the brand supports other U.S. based businesses. To order a Tank Essential tank, please visit http://www.tankessential.com or visit us at Tank Essential on Facebook.
###