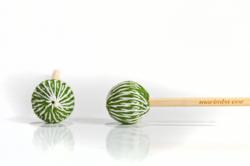 "Round Sound" are lightweight mallets that produce a huge sound.
Arcata, CA (PRWEB) May 14, 2013
Round Sound is marimba one®'s latest innovation, which is a really, really round mallet that aims to compete in the mass market.
The mallets, which are double-wound for durability, offer marimba one® craftsmanship at the competitive price of $34.95.
The light weight makes it easier to use for students and other beginner or intermediate percussionists, yet the warmth and articulation make it attractive to advanced players.
Jesus Martinez, percussion educator in Texas, says: "First and foremost, this product is awesome! The sounds and overtones that the mallets bring out of the marimba are very clean.
"They are lightweight mallets that produce a huge sound. These types of mallets are especially essential to fast passages which have quick turn-arounds from low to high ranges (or vice versa)," he added.
Round Sound features two colors, the unique visual trademark of marimba one®mallets. It's available only in birch, and comes in three levels of hardness: RSB1 (hard), RSB3 (medium) and RSB5 (soft).
On May 15, marimba one® launches this new mallet for sale in the U.S. through Steve Weiss Music at $34.95 (http://www.steveweissmusic.com/category/marimba-one-round-sound-mallets).
On September 15, Round Sound mallets will be available worldwide through marimba one®'s network of dealers.