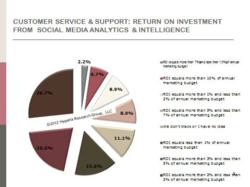 "Effective usage of social technologies as part of the ever-evolving multichannel interaction with customers may well create a differentiation for early adopters." --Leslie Ament, SVP Hypatia Research Group
Lexington, MA (PRWEB) February 12, 2013
Industry analyst and market research firm Hypatia Research Group announces availability of a new primary research study entitled "Exploiting Social Intelligence for Customer Service & Support Excellence". Featuring the unique Hypatia GalaxyTM Evaluation, in which 27 software vendors are evaluated by 12 criteria, this report showcase current trends, organizational challenges, best practices, and return on investment metrics utilized by top performing organizations via 45+ pages, 18 tables or figures and several case studies that focus on business return on investment.
Hypatia Research Group surveyed more than 1100 global organizations for this research and found that only 246 respondents actually utilize, recommend, influence, and/or hold budget or veto power over the purchase of social media software for customer service and support initiatives at their place of employment. As a result, only analysis derived from these 246 respondents was utilized for this research.
Leslie Ament, senior vice president, and principal analyst at Hypatia Research Group stated, "Organizations that adopt social media tools for customer service, combined with best practices for rules-based business process workflows, are empowered to utilize their social channels as decision support and customer engagement for value creation. Not surprisingly, 44.4% of customer service and support executives cited "the ability to respond to customer requests for support, service or information promptly" as the highest reason for investment in social engagement tools."
In fact, 17.8% of customer service and support executives realize greater than 5% return on investment--defined as a percentage of their organization's total annual marketing spend. Another 20% realize between 3%-5% return on investment while 26.7% attain between 2-3% ROI. Only 8.9% cited lack of tracking or knowledge of return on investment.
Ament summarized, "Our analysis reveals that "customer experience" is an intangible metric. True customer engagement has a higher probability of tangible outcome. Effective usage of social technologies as part of the ever-evolving multichannel interaction with customers may well create a differentiation for early adopters."
Other research findings include:

How organizations set goals and objectives for investment in Social Customer Service & Support initiatives
Which role(s) are primarily accountable for these programs, and moreover, how should these teams be structured organizationally?
How are organizations harmonizing customer's online interactional information such as web self-service, online chat and social feeds (such as Facebook, Twitter, etc...) with transactional data stored within legacy systems such as CRM, marketing databases, or ERP systems?
Return on investment benchmarks by geography, industry, maturity level and size.
Which best practices or lessons learned from other organizations' effective use of social channels for customer service and support would provide lessons learned or business justification for other organizations?
Over 246 respondents with direct accountability for selection or use of social software and services for customer service & support functions were utilized for this primary research. Company size of respondents comprises: 37.5% large enterprises, 33.9% mid-market and 28.6% SMB. Geographic breakouts are: 47.3% North America, 30.2% Asia PAC: Australia, China, Japan, and Korea, 21.8% EMEA, and 0.8% South America. Potential customers of this research may view an abstract at; [http://store.hypatiaresearch.com/ExploitingSocialIntelligenceCustomerServiceandSupport.aspx.
About
Industry analyst and market research firm Hypatia Research Group delivers high impact market intelligence, industry benchmarking, best practice, and vendor selection research for how businesses use technology and service providers to capture, manage, analyze and apply customer and market intelligence to enhance performance and accelerate growth. Coverage includes: Customer Management (CRM), Business Intelligence, Advanced Analytics, Customer Analytics, Social Media, Text Analytics, Marketing Automation, Information Management, Customer Data Management/Data Quality and GRC. Since 2001, clients have relied on Hypatia for industry insight, expertise and independent market research for guidance in assessing various technology and service options.
Contact:
Research(at)HypatiaResearch(dot)com
O: 781-862-5106