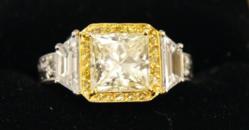 Evansville, Indiana (PRWEB) February 21, 2013
Sohn & Associates, an Indiana auction company, is set to hold a large jewelry, coin, sports memorabilia and furniture auction on Saturday, March 2nd at 9:00 AM. The auction will take place in Evansville, Indiana at Sohn & Associates' auction facility. Some items include a 4 carat baguette diamond ring, a 1934 five hundred dollar bill, and a Muhammad Ali autographed matted photo. To see hundreds of photos go HERE, click on view photo gallery.
One of Sohn & Associates featured items to cross the auction block is a 4.66 carat diamond ring. The center stone is a 3.08 carat princess cut canary yellow diamond. The diamonds are set in platinum. This ring comes with an appraisal of $98,000.00.
Another featured item is a genuine Arabian gold coin minted in 1094 A.D. This gold coin is a half Dinar, and is, "part of the Arwa Gold Hoard discovered at Du Jibla in the country of Yemen," as stated on the coin's certificate of authenticity.
This auction will include gold, silver, and platinum jewelry, coins, sports memorabilia and modern furniture. To see details and photos on this upcoming auction go to http://www.SohnAndAssociates.com or for online bidding visit http://www.proxibid.com/sohn. Join Sohn and Associates for the live auction on Saturday, March 2nd at 9:00 AM in Evansville, IN. There will also be a preview for this auction on Friday, March 1st from 4:00-7:00 PM.
Sohn & Associates has over 90 years of combined auction and real estate experience and belongs to the Indiana Auctioneers Association and the National Auctioneers Association. The full service auction company specializes in real estate, antiques, collectibles, firearms, tools, equipment, and business liquidations. For more information email info(at)SohnAndAssociates(dot)com.