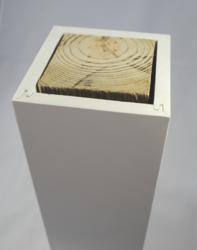 Scranton, PA (PRWEB) April 26, 2013
Building and remodeling trends show a return to traditional and vintage home styles, with columns standing out as one of the hallmarks of the front porch. To add elegance and distinction to any porch installation without additional time and labor, AZEK Building Products introduces AZEK Column Wrap to its trim product line-up.
Research also indicates that the ability to create custom looks without additional labor and costs is a high priority for contractors installing porches and columns. Low-maintenance AZEK Column Wrap, made of durable cellular PVC, is easy to install - even by just one person. It features three connected panels with press fit lock seams that, when folded together, wrap easily around the structural support. The fourth panel then locks into place and creates a tight and secure enclosure around the structural post. When completed, the AZEK Column Wrap provides a nicely finished smooth exterior surface. Interior corner details provide additional surface area to enhance the bonding between panels.
Available in white matte, smooth Traditional finish, AZEK Column Wrap comes in sizes that fit around structural 4 X 4, 6 X 6 and 8 X 8 posts. It is available in 10ft. lengths so it can be customized to fit any application up to that height. AZEK Column Wrap does not require additional milling or painting, although it has excellent paint adhesion if a color is desired. It resists cupping, swelling and chipping for lasting good looks.
AZEK Column Wrap can be easily embellished with AZEK Trim or AZEK Moulding profiles to provide a custom look. Like all AZEK Trim products, AZEK Column Wrap is designed to last beautifully, impervious to moisture and insects and covered by a 25-year Limited Warranty.
To learn more about AZEK Column Wrap, call 1-877-ASK-AZEK (275-2935) or visit the AZEK website at http://www.azek.com.
About AZEK Building Products:
With more than 25 years of cellular pvc manufacturing experience, AZEK Building Products makes and markets premium, low maintenance exterior building products under the AZEK Brand such as AZEK Deck, the leading brand of low-maintenance decking, and AZEK Trim, the leading brand of low-maintenance trim. Other AZEK products include AZEK Mouldings, AZEK Porch, AZEK Rail and AZEK Pavers. All of these products offer tangible benefits as ideal replacements for traditional products in myriad outdoor uses. For more information about AZEK Building Products, call 1-877-ASK-AZEK (275-2935) or visit the AZEK website at http://www.azek.com. For the latest updates, follow AZEK on Facebook at facebook.com/azekbuildingproducts and Twitter at @AZEKProducts.