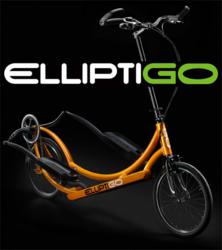 Los Angeles, CA (PRWEB) April 02, 2013
2012 USA Masters Cross Country Champion, Christian Cushing-Murray, clocked a 3:55:09 in the 1500 meters at the Occidental Distance Carnival on March 19th to set a new American Record for Men 45-49. A standout runner since his days at UCLA, Cushing-Murray has been using the ElliptiGO to recuperate from an injury and to add volume to his training throughout the winter. His next race will be the Carlsbad 5000 on April 7th, a race he has won three times.
About ElliptiGO
ElliptiGO, Inc. is the San Diego-based company that created the world's first outdoor elliptical bicycle specifically designed for runners. Combining the best of running, cycling and the elliptical trainer, the ElliptiGO® provides a comfortable, fun and effective way to exercise outdoors. It delivers a high-performance workout experience that closely mimics running outdoors while eliminating the impact. Elliptical cycling is an effective way to build cardiovascular fitness without aggravating injuries and is great for everyone from the weekend warrior to the elite athlete. The full line of ElliptiGOs can be purchased at retailers nationwide and through the company's website: http://www.elliptigo.com.
###