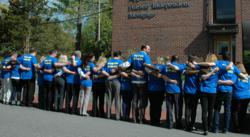 Overwhelmed by the generosity of Fairway employees nationwide for $50,000 in donations to The One Fund.
Needham, MA (PRWEB) June 17, 2013
Individual branches of Fairway Independent Mortgage Corporation nationwide have raised over $50,000 for The One Fund in support of victims of the April 15th Boston Marathon bombing. The national fundraising effort was inspired by the Fairway Needham, MA branch's B2B Boston Strong shopping event in the Back Bay to support impacted businesses, which included a donation of 5% of the day's receipts to The One Fund.
The Fairway Needham's B2B Boston Strong event held on May 8th resulted in over 60 people from suburban Boston dining and shopping on Boylston Street, and a total of 100 gift bags full of promotional items from local businesses distributed. Other Fairway branches were alerted to the event and the opportunity to support victims of the bombing through The One Fund.
Similar to funds established after the Oklahoma City bombing and 9/11, the goal of The One Fund is to raise and provide immediate funds to victims to offset the costs associated with various levels of injury. The One Fund has raised $45 million to date, and payouts are expected to begin by mid-June. Not surprisingly, many in the company did not realize the devastating extent of the injuries experienced, and the ongoing need that many predict will not be met by The One Fund payouts alone.
"I am grateful but not at all surprised by the generosity of our fellow Fairway employees across the country," said Fairway Independent Mortgage Regional Vice President and Needham Branch Manager, Amy Tierce. "There is a genuine culture of giving that is promoted from the top down, and when people heard about the breadth of injuries and ongoing needs of the victims, including some of our own friends and clients, they felt compelled to help out."
The total amount raised was announced at the company's annual sales meeting, held June 6-9 in Madison, WI. Funds were raised from branch contributions or individuals who opted to have a donation deducted from their paycheck.
Fairway Independent Mortgage is located in Needham, MA and is a branch of Fairway Independent Mortgage Corporation, among the top fifteen lenders in the country. Fairway's Needham office was started by Amy Tierce in 2006 and has grown to 30 employees including a satellite branch in Holden, MA. The Needham branch closed over 400 million in loans in 2012 and has been the top producing Fairway branch nationwide for the last five years. Working with the top national and regional investors Fairway is committed to providing customers the best rates and programs available, while still offering personal care to meet individual needs. To reach the Needham office call: 781-719-4664 or visit http://www.fairwayne.com.