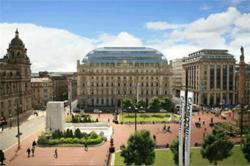 Glasgow, Scotland (PRWEB) February 12, 2013
George Square City Centre Business Hub are revitalising and refreshing their brand with a new upbeat logo. The long established company will also give their website a facelift to make it easier for clients and new customers to use.
The offices located in St Vincent Place, Glasgow, G1, Scotland has recently undergone a major facelift.
"We recently refurbished the George Square offices in St Vincent Place, and we now want the company image to reflect the recent upgrades," said Mr P Walker.
"The company is delighted to be working with Maya Mendoza and Milagro Fusion Marketing to manage our on-line upgrade," he said, and continued, "We are looking forward to a new website and blog and excited about developing a Social Media presence which we are certain will help to get our name out into the Glasgow business arena."
MilagroFM's founder Maya Mendoza said, "The George Square Business Hub offers virtual and serviced offices with managed VA services and flexible working space in Glasgow. We have used the George Square meeting rooms for client demonstrations and have been very happy with VA service they delivered."
George Square Business Hug is an exciting building right in the heart of the bustling city centre. It is located adjacent to the famous George Square Landmark, surrounded by trendy shops and. The new brand will reflect the both the traditions and energy of the people and businesses in that area.
"This is an exciting project with amazing potential, and we are looking forward to putting our expertise in both website design, digital marketing and social media audience development to work on their behalf," Mendoza said.
About George Square Ltd
George Square Ltd is a Managed Business Centre in Glasgow City Centre. It has been serving the changing needs of business in Glasgow for over 10 years. The Centre offers a variety of flexible and cost-effective options coupled with a prestigious G1 city centre business address. The centre delivers professional, tailored virtual office and flexible serviced office solutions to businesses looking for and reliable and flexible work space.
About Milagro Fusion Marketing:
Milagro Fusion Marketing (MilagroFM) is a unique marketing consultancy and media agency focused on helping clients gain traction and increase visibility on-line via social media channels. The company specialises in on-line brand and reputation development, audience identification, social engagement, social SEO, PR, Press and Media Services and also a complete range of integrated online, local, social and mobile marketing services.
You can find out more about Milagro Fusion Marketing by visiting their website: