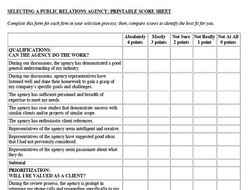 Before I started the Idea Grove, I was a senior corporate communications executive for billion-dollar companies
Dallas (Vocus) October 3, 2009
The Idea Grove, the Dallas PR agency led by veteran corporate communications executive Scott Baradell, has released a 25-question assessment tool to help companies that are in the process of selecting a public relations firm.
"Before I started the Idea Grove, I was a senior corporate communications executive for billion-dollar companies," Baradell explained. "I've led public relations campaigns of all sizes and budgets - and I know how important it is to select the right PR firm during the agency review process.
"That's why I've created a simple assessment tool to help companies make the right decision - and to avoid common mistakes."
Baradell, who founded the Idea Grove in 2005, said that mistakes most often occur when companies fall for a slick agency presentation without fully understanding (1) the agency's specific qualifications; (2) how it will prioritize the company relative to other clients; (3) how it will charge for its services; and (4) whether the agency will be a good personality fit.
"Many PR firms are spectacular during the agency review process, but mediocre once they're a few months into the engagement," the Dallas online marketing and public relations expert said. "This is because large firms, in particular, win new clients through the sales efforts of senior executives -- but then make a junior staffer the primary contact on the account."
Baradell recommends that corporate communications teams conducting agency reviews ask themselves the following 25 questions - comparing PR firms across the categories of Qualifications, Prioritization, Cost-Efficiency, and Compatibility -- before making a decision:
Qualifications: Can the Agency Do the Work?
1. During our discussions, has the agency demonstrated a good general understanding of my industry?
2. During our discussions, have agency representatives listened well and done their homework to gain a grasp of my company's specific goals and challenges?
3. Does the agency seem to have sufficient personnel and breadth of expertise to meet my needs?
4. Does the agency have case studies that demonstrate success with similar clients and/or projects of similar scope?
5. Has the agency provided enthusiastic client references?
6. Do representatives of the agency seem intelligent and creative?
7. Have representatives of the agency suggested good ideas that I had not previously considered?
8. Do representatives of the agency seem passionate about what they do?
Prioritization: Will I Be Valued as a Client?
9. During the review process, has the agency been prompt in returning my phone calls and responding specifically to my information requests?
10. Has the agency been straightforward in identifying the individual who will be my primary, day-to-day contact person?
11. Does my primary contact have a sufficient level of relevant experience?
12. Has my primary contact taken a prominent role in meetings during the review process?
13. Has my primary contact personally serviced some of the client accounts cited by the agency in case studies and client references?
14. Does my primary contact have the authority to offer advice and make decisions when I need them quickly?
Cost-Efficiency: Will I Get My Money's Worth?
15. In creating a proposal, do agency representatives focus on meeting my needs - or do they ask, "What's your budget?" and deliver a plan that absorbs all available dollars?
16. Is the agency straightforward in discussing how it bills for its work?
17. If the agency bills by the hour, does it openly share the specific billing rates of its individual employees?
18. Do the agency's billing rates seem reasonable compared to other firms?
19. Do the agency's client references vouch for the agency's flexibility and fairness in billing?
Compatibility: Will The Agency Be a Good Partner?
20. Is the personality of my primary, day-to-day contact a good fit with mine?
21. Do agency representatives communicate freely and easily with my company's employees in meetings?
22. When asked their opinion, do representatives of the agency say what they think - not just what I want to hear?
23. Do the agency's recommended tactics seem honest and ethical?
24. If the firm serves other companies in my industry, are agency representatives forthcoming in discussing any possible conflicts of interest?
25. Does my gut tell me the agency is promising what it can actually deliver -- and not exaggerating simply to get my business?
This assessment tool, organized in a spreadsheet for easy ranking of competing PR firms, can be downloaded at the Idea Grove Web site.
About the Idea Grove
The Idea Grove is a Dallas PR agency led by former Fortune 1000 executive Scott Baradell, a 20+ year communications veteran. As a corporate communications executive, Baradell led the communications departments of two Fortune 1000 companies. As an entrepreneur, he wrote the business plan for his own venture-backed startup. And as a Dallas online marketing consultant, he created a pioneering blog that has been cited in books and has influenced some of the top bloggers on the scene today. Now, he brings his unique combination of old-school experience and online savvy to help you energize your company's marketing efforts for today's new era. Learn more at http://www.ideagrove.com.
Contact:
Cathy Baradell
(972) 235-3439
# # #