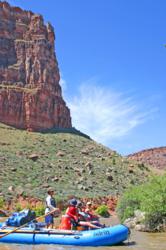 Jensen, UT (PRWEB) May 08, 2013
Adrift Adventures, a wilderness whitewater rafting company in Dinosaur National Monument, announced a two-for-one high water Yampa River trip scheduled for May 29 – June 1, 2013.
This discount rafting trip includes meals, shuttles and river equipment, for an average adult rate of $392.50 per person, according to Eileen Peterson, general manager, Adrift Adventures.
"Get the best deal available on one of the most sought after multi-day rafting trips in the west," Peterson said. "Explore the free-flowing Yampa River during high water on this all-inclusive luxury rafting trip."
The high water rafting trip meets at the Adrift Adventures warehouse in Jensen, Utah on Wednesday, May 29 at 8:00 am, and participants will be shuttled back to their vehicles on Saturday, June 1, by 4:00 pm, according to Travis Hochard, operations manager, Adrift Adventures.
"Float 72-miles through the heart of Dinosaur National Monument over four relaxing days," Hochard said. "Guides will help you navigate class III-IV rapids, set up camp, cook meals, and tell you about the diverse history, spectacular geology and fragile ecosystems of the area."
Participants will start rafting at Deer Lodge Park on the Yampa River in Colorado and end at Split Mountain Campground on the Green River in Utah, according to Hochard.
"There are no roads on this section of the Yampa River and Green River, so all food and gear will be packed on rafts and brought to a remote camp each night," Hochard explained. "Leave no trace camping is essential to keep the Yampa River pristine. Portable toilets, privacy tents and hand-washing stations are provided."
Adrift Adventures has been offering guided whitewater rafting trips on the Green River and Yampa River in Dinosaur National Monument since 1980. Choose from one-day and multi-day rafting trips May through Labor Day. Call 800-824-0150 or go online for more information.