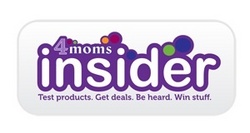 We're really excited to connect with people who want to be a part of launching new products like the Origami, the world's first power folding stroller
Pittsburgh, PA (Vocus) October 13, 2009
4moms has launched a new group called "4moms Insiders" on its website. Consumers can join the program and have a chance to test products, get special deals, participate in market research and win 4moms merchandise and other items. 4moms Insiders get their choice of a free t-shirt or hat just for registering.
"We're really excited to connect with people who want to be a part of launching new products like the Origami, the world's first power folding stroller," says Robert Daley, CEO of 4moms. "Insiders will get to participate in market research on these innovative products and even take part in pre-launch product testing. Anyone can join – new parents, experienced parents, future parents, grandparents. Anyone who's willing to help spread the word about these great products."
Currently 4moms is reaching out to mom blogs and other mom groups to get 1,000 registered Insiders by October 31st. This program is a great opportunity for moms, future moms, dads, grandparents and anyone else interested in learning more about 4moms and receiving inside information. 4moms is also asking its Insiders to help spread the word about products, especially the mamaRoo infant swing and the Origami power-folding stroller.
Once the mamaRoo and Origami reach the testing stage, 4moms Insiders will be notified of product testing opportunities. The mamaRoo will hit stores on January 20, 2010 and the Origami will be out in April of 2010. Both products will be available at specialty retailers nationwide.
About 4moms
4moms is a brand of Thorley Industries, Inc., a 3-year-old company that develops and markets products for the $7.0 billion juvenile products industry. 4moms' award-winning products can be found at numerous retailers including Babies "R" Us, Amazon.com, BuyBuy Baby, USA Baby, Target.com and specialty stores and boutiques nationwide. For more specifics on all 4moms' products, click on the website at 4momsOnLine.
###