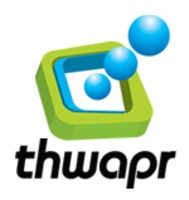 The center of gravity for online video is shifting from the desktop to mobile devices
New York, NY (Vocus) February 26, 2010
Thwapr, the mobile video sharing platform, today introduced major new capabilities for sharing and viewing mobile video in Facebook and Twitter, addressing significant limitations found in other solutions. The company is launching an open sharing model via "Thwap It!," a new way to share pictures or videos to mobile phones without registration or application download.
Key new features and updates include:

Twitter Mobile Video: "Tweet It!" is an integrated solution for posting any picture or video to Twitter from mobile phones and desktops where it can be viewed on hundreds of mobile devices, Macs, and PCs. This enables Thwapr video on Twitter to reach a large mobile audience. Thwapr video tweets can be played in Twitter on phones, Mac, or PC searching for "#thwapr".
Facebook Mobile Video: "Facebook Share It!" allows for any picture or video to be posted to Facebook so it can be played on hundreds of different mobile devices, Macs and PCs. In contrast, most users who upload video onto Facebook today face major limitations. Facebook Flash video plays only on the desktop and rarely on phones. Alternatives from competitors restrict video length, support limited handsets, or provide a disjointed user experience.
Open Sharing: A new open sharing capability called "Thwap It!" allows users to easily and quickly share pictures or videos from a computer or a phone to one or more mobile phones, in a similar way users Tweet, Digg, or Buzz articles on the Web. Users launch Thwap It! from a simple Web button and can add a personalized note when sharing Thwaps to mobile friends and family.
More Thwapr-Friendly Devices: Thwapr now supports more than 200 devices for mobile video, including new smartphones and app phones recently launched such as Google Nexus One, Blackberry Bold 9700, Nokia N900, and Motorola Cliq. Support has been added for more feature phones, such as the LG Glimmer and Samsung i607, to provide a broader range of mobile video capability. These models add to a broad list of handsets from Apple, HTC, LG, Google, Motorola, Nokia, Palm, RIM, Samsung and Sony via major carriers in the US and Canada - AT&T, Verizon, Sprint, T-Mobile and Verizon. See http://bit.ly/thwapr-top-devices for supported devices.
Enhanced Blackberry Video Capture and Android Streaming Support: Thwapr has added support for Blackberry's high quality video capture format (480 x 360 resolution) and boosted streaming video playback quality for its service on Android phones; for example, Motorola Verizon Droid and Sony Ericsson Xperia x10i streaming on both 3G networks and WiFi.
Thwapr can now be enjoyed by 400 million Facebook users (of whom 100 million are Facebook mobile users) and by Twitter's 75 million users. These new updates expand the audience for Thwapr, enhance Thwapr's mobile video service, and do not require any downloads. And Thwapr is fun, fast, and free.
"The center of gravity for online video is shifting from the desktop to mobile devices," said Eric Hoffert, CTO of Thwapr. "Users are increasingly capturing, sharing, and viewing video on their phones, in the moment, on-the-go. Our new Thwap It!, Tweet It!, and Facebook Share It! functionality takes this trend and accelerates it, enriching what users can achieve for multimedia on their mobile devices."
Bruce Goldstein, CEO of Thwapr, said, "In addition to basic functions like sharing mobile video to your PC/Mac, etc. , we separate ourselves from the 'me too' services of others by a 'Thwap It' (share to phone functionality) that is light years ahead of any Web-to-mobile, or mobile–to-Web entrants in the marketplace. As a result, brand agencies, professional sports teams, and the like are finding their way to our door to provide the missing link in serving their brands and fans the power of mobile video."
Experience the simplicity of Thwap It!, Tweet It!, and Facebook Share It! via http://bit.ly/thwap-it which can be viewed on a mobile phone or computer. In a future release, Thwapr plans to enable publisher and blogger web sites so they can add a Thwap It! button for any picture or video.
"Thwap It!" and "Tweet It!" at the Olympics
As part of the new feature rollout, social media bloggers used Thwap It! to share mobile video to phones and to post to Twitter during the Vancouver 2010 Video Walk presented by True North Media House, W2 Community Arts and Thwapr. This video walk provided bloggers and Twitter followers a multi-dimensional, real-time view of Olympic Sites in Vancouver along with related content.
About Thwapr, Inc.
Thwapr is the first true mobile video sharing communications platform. Thwapr's mission is to provide a social mobile video sharing experience regardless of carrier or device worldwide. Developed by founding members of Apple's QuickTime team and technologists from AVID/Digidesign and MTV, Thwapr's patent-pending technology allows mobile users to send video "Thwaps" captured with their device to any other mobile users, easily and instantly. The company is privately held. For more information and to register for Thwapr, please visit http://www.thwapr.com on your mobile phone or computer. Follow Thwapr @ http://www.twitter.com/thwapr or become a fan at http://www.facebook.com/thwapr.
Media and Investor Contacts:
Jocelyn Johnson, Gravitas Communications, 212-924-9500
Jenny Lee, Gravitas Communications, 650-996-8585
Amy Ezold, Thwapr, Inc., 212.268.0220
###