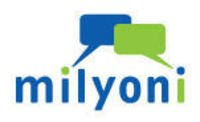 We see an opportunity to truly monetize the hundreds of millions of Facebook users with Conversational Commerce® from Milyoni.
San Francisco, CA (Vocus) April 16, 2010
Milyoni, Inc. today announced seed funding from ATA Ventures and Thomvest International. The seed money will be used to further develop, promote and sell iFanStore, its new Facebook app that allows retailers and direct merchants to sell their products within Facebook. Unlike competitive solutions that push fans out of Facebook to a traditional website for ecommerce, Milyoni employs Conversational Commerce®, a unique merchandising approach that keeps Facebook users within the Facebook experience.
Milyoni (pronounced 'million-eye') has been developing its commerce application for social networks, including Facebook, for over 9 months. There are several companies operating Milyoni iFanStore for Facebook shopping including The Onion, John Elway, Equator Coffee, Cowgirl Creamery and more. Customers choose Milyoni because of its robust platform, speedy implementation and its unique ability to engage their Facebook fan base before, during and after the sale.
Hatch Graham, managing director of ATA Ventures said, "We see an opportunity to truly monetize the hundreds of millions of Facebook users with Conversational Commerce® from Milyoni." Don Butler, general partner of Thomvest commented, "Milyoni offers an exciting new application for the Facebook platform and an outstanding management team to help their customers get a great return on their social networking investment."
Founded by former executives of retail and technology companies, the Milyoni management team consists of:
John Corpus, Co-Founder and CEO, formerly of Williams-Sonoma, Mervyns, IBM, KPMG, Groundswell
David Raycroft, Co-Founder and VP of Products, formerly of JC Penny, Forerunner Inventory Forecasting Solutions, Mervyns
Regan Poston, Co-Founder and VP of Customer Success, formerly of Oracle, Siebel, Accenture, clients included Toysrus.com, Wal-Mart
Jim Lisiak, CTO and VP of Development, formerly of Microsoft, Chevron Corporation
Dean Alms, VP of Strategy & Marketing, formerly of PeopleSoft, KPMG, Groundswell, Visage Mobile
To learn more about Milyoni and the customers who have deployed iFanstore, visit milyoni.com or to stay informed on the latest in Conversational Commerce®, become a fan at Milyoni Facebook page.
About Milyoni:
Milyoni, Inc. is a social networking apps provider pioneering social merchandising and shopping using Conversational Commerce®. Milyoni allows merchants to conveniently sell within the context of Facebook or other social networking platforms. Transforming and monetizing social networking strategies with social networking apps that include ifanstore and ireply2buy, the Milyoni Merchant Platform can convert your loyal fans into paying customers and viral promoters. For more information, visit milyoni.com.
About ATA Ventures:
ATA Ventures is a venture capital firm focused on seeking out early stage private companies that appear to offer above average prospects for capital growth. With over $450 Million of capital under management, ATA Ventures focuses on Information Technology (IT) and provides seed capital and early stages of financing to these companies. For more information, visit ATA Ventures.
About Thomvest Ventures:
Thomvest is a venture capital that focuses on working with early stage technology companies. With offices in the Bay Area and Toronto, Thomvest focuses on working with companies that are distinguished by their intellectual property and their ability to apply technology to serve large and growing markets. For more information, visit Thomvest Ventures.
###