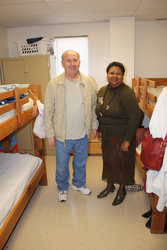 We are pleased to be able to again offer this program to local organizations. FCAI has a strong history of community involvement and financial support to central Illinois groups
Peoria, IL (Vocus) April 23, 2010
The Finishing Contractors Association of Illinois (FCAI), Central Chapter, is proud to announce it is accepting grant applications to assist area social service agencies and non-profit organizations through the Community Care Project.
Each year, FCAI donates money collected from its contractor membership to community groups. In 2008, it launched the Community Care Project to award grants to deserving social service agencies and non-profit organizations. In 2010 the FCAI will again award a total of $20,000 in grants. Grant requests will be accepted from organizations located in Peoria, Tazewell, Woodford, and McLean counties in Illinois.
"We are pleased to be able to again offer this program to local organizations. FCAI has a strong history of community involvement and financial support to central Illinois groups," said Kurt Hand, central Illinois chapter president. "In 2009, we provided grants to the AmVets Post 64, Bloomington Day Care, Inc., The Center for Prevention of Abuse, Easter Seals – UCP – Bloomington, Goodwill Industries of Central Illinois, Heart of Illinois Harvest, Izaak Walton League of America – Woodford County Chapter, Look! Its My Book!, Make a Wish Foundation of Illinois, Midwest Food Bank, Peoria Area Blind People's Center, Share Food of Central Illinois and South Side Mission. We also sponsor several scholarships at Illinois Central College for students in construction-related programs."
Grant requests should be limited to projects or purchases related to building upgrades or restoration, maintenance projects, equipment replacement, or educational needs. It is preferred that the projects utilize union contractors and workers. A grant application form may be obtained online at http://www.fcaofillinois.com/about/centralchapter.php or by calling Chris Shay at 309-740-9718. Grant request forms must be submitted by May 31, 2010, and the grants will be awarded in October 2010.
Grant applications can be emailed to cshay(at)dba-designteam(dot)com , or faxed to 309-687-4790.
They can also be mailed to:
FCAI Community Care Project
c/o Christine L Shay, dba/design & marketing
4410 N. Miller Ave, Peoria Heights, IL 61616
For questions about applying and/or problems sending the applications, contact Christine Shay at 309-740-9718.
For more information on the Community Care Program, please visit http://www.fcaofillinois.com or contact Kurt Hand at 309 303-4085.
About FCAI
The Finishing Contractors Association of Illinois represents approximately 400 union contractors doing business in 29 counties in central and northern Illinois. These firms vary in size from the very small — with owners who 'work with the tools' along with a few tradespersons — to larger companies with several employees working on numerous construction projects.
FCAI is dedicated to serving the industry through negotiating and implementing a collective bargaining agreement, and promoting safety, professional development and training, resulting in a better value to its members and the consumer. The Association serves its members through programs, services and products designed to help them run successful businesses and offers free access to PDCA (Painting and Decorating Contractors of America) Standards and MPI (Master Painters Institute) Specs. Members are also provided with weekly invitations to bid on current local projects.
Photo Caption: FCAI Central Chapter Treasurer Pete Chiras, at left, poses with Rev. Linda Butler in a refurbished dorm room. A Community Care Project grant from the Central Chapter of the Finishing Contractors Association of Illinois has allowed the New Promise Center, a shelter program at South Side Mission in Peoria, to refurbish five dormitory rooms. Last fall the shelter program for homeless women and women with children was one of several grants awarded to social service organizations in Central Illinois. Recently FCAI representatives were invited for a tour to see the work from beginning to finish.
# # #