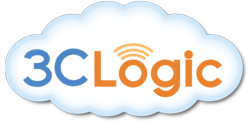 With the most recent release of 3CLogic Cloud Call Center software, we are enhancing the tools that make the lives of call center administrators easier.
Rockville, MD (PRWEB) April 30, 2013
On April 27, 2013, 3CLogic, the leader in cloud based contact center software hosted on Amazon Web Services (AWS), proudly announced the general availability of its latest cloud contact center Software. This release, 4.4, addresses many of the commonly requested features from 3CLogic's growing customer base.
The 4.4 software update will increase the efficiency in contact centers for both supervisors and agents. Supervisors can more efficiently use their time by not having to wait to check for import and export jobs to be completed, and they will be able to manage call-backs without contacting 3CLogic support team. On the agent side, agents will not have to restart the 3CLogic client every time a change is made to a project.
"With the most recent release of 3CLogic Cloud Call Center software, we are enhancing the tools that make the lives of call center administrators easier," says Ramana Reddy, Director Product Management at 3CLogic. "Automation directly impacts call center performance and our customers count on us to deliver performance where it matters."
Some of the key upgrades in 3CLogic's 4.4 Software release are:
a) Notifications can be sent to the administrator or supervisor when import leads or reports are available. Additionally, administrators or supervisors will be emailed once jobs are completed. Normally, supervisors have to constantly monitor the portal to see if this has been completed, but this new feature gives them a real-time report on the job.
b) Call backs can be imported and edited on the portal. This gives administrators the ability to import callbacks from other systems and change the time of the callbacks. Previously, admins had to send the list to the 3CLogic support team, and the team would have to import the leads. Now, both agents and the supervisors can make changes to the callback if it is no longer valid or if they want to reschedule the callback.
c) A dynamic configuration feature has been added to the 3CLogic client. Administrators, after making changes to projects, can push the changes to their agents without requiring a restart from agents. The changes to the inbound and outbound projects can happen live without the agents having to worry about logging out. This increases agent productivity and the call center workflow is not inhibited.
About 3CLogic
3CLogic, headquartered in Rockville, MD, offers a full suite of cloud based inbound and outbound customer interaction channels such as voice, chat, and social media, which integrate with existing Customer Relationship Management (CRM) software. This integration provides businesses with a 360 degree view of all customer interactions regardless of the channel chosen by their customers. With 3CLogic's cloud based Contact Center, companies have more accurate and timely information about their prospect or customer and they can more efficiently respond to communications, ensure customer satisfaction with better service, and drive toward a larger lifetime value of each account, customer or client. For more information, please contact 3CLogic at: 800-350-8656 or info(at)3clogic(dot)com. Find 3CLogic on the web at: 3clogic.com. Tweet us @3clogic.