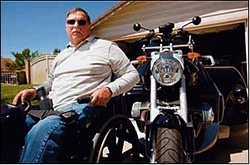 I'm going to put on as many miles as I can
Saint Paul, MN (Vocus) May 21, 2010
Hundreds of veterans and their motorcycles will begin a cross-country journey for the annual "Run for the Wall" Wednesday, May 19, 2010. Michael Donahue of Rancho Cucamonga, CA will be a part of that group and so will his Mobility Conquest wheelchair accessible motorcycle.
Donahue, now 55, began riding motorcycles when he was 16 years old. Thirty years ago, Donahue was a military policeman in Virginia Beach and was accidentally shot. The injury left him paralyzed from the waist down. Like so many other injured motorcycle enthusiasts, he was certain he would never ride again.
However, last year, the freedom of the open road was once again an option for Donahue. Donahue purchased The Conquest after finding the wheelchair accessible motorcycle while surfing the web one day. Donahue had been searching for a viable option for over 27 years and has now found the one motorcycle that will let him enjoy the freedom that the motorcycle offers.
Donahue is leaving for the cross-country trek from his home Rancho Cucamonga with his new wheels, as he takes part in the annual motorcycle ride "Run For the Wall" that ends in Washington, D.C. The ride raises awareness for veterans and those that are missing in action. On his way home, Donahue will take a detour and stop in Virginia Beach to see his "old haunts."
"I'm going to put on as many miles as I can," Donahue said. "I'm going to put her to the test. Everybody calls it a Batmobile. Temporarily, she's my freedom chariot." Donahue says that people take pictures of him on it and when he took it the DMV, they weren't sure how to register it.
Mark Allen Roberts, president of Mobility Works, said that many of their customers tell him they never thought they would be able to ride again. "It's hard to explain what it's like watching people's faces change when you give them new hope," he said. Roberts said.
There are currently 29 wheelchair accessible motorcycles in the country and Donahue was the first to buy one in California. Donahue will be one of three riders taking their Mobility Conquests to the capital on the ride. The other two riders will be joining the "Ride For the Wall" in Ohio.
For more information on The Conquest wheelchair accessible motorcycle, visit the official website at http://www.MobilityConquest.com. You can also find them online through FaceBook, YouTube and Twitter. The Conquest will also be featured at numbers expos and bike events across the nation. Check the website to find the latest dates and event information.
About Mobility Conquest: Mobility Conquest was founded by Bill Koeblitz of Mobility Works, in partnership with Martin Conquest of the UK. Mobility Conquest will be the only authorized manufacturers and distributors of this powerful, wheelchair accessible motorcycle.
# # #