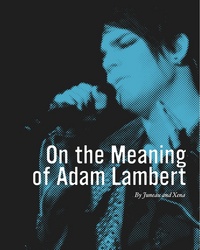 What is it About Adam Lambert
(Vocus) June 18, 2010
Adam Lambert is singing, strutting and thrilling audiences across the continent as he reveals his visions of great entertainment. Drama, pathos, wit and sensuality are all evident in the Technicolor dream world of his imagination. Supported by passionate musicians and dancers, Lambert leaves glitter-covered audiences running straight to the box office to snap up tickets so they can pursue Lambert's Glam Nation tour as it crisscrosses North America this summer.
Who are these "Glamberts," as Lambert's fans are sometimes called? They come in all ages and nationalities. Among them are Juneau Underwood, a Harvard-trained science writer, and Katherine Hollinsworth, a Canadian public policy analyst. The women met on a website that posted an article by writer Allegra Huston, "What is it About Adam Lambert," soon after the singer catapulted to national fame on American Idol. They became obsessed with understanding his impact, and commented prolifically as "Juneau" and "Xena", launching an incredible journey that culminated in the publication of their posts - writings that cover a wide array of topics and personal transformations - in a book, On the Meaning of Adam Lambert, available on Amazon.
The book is generating keen interest among Lambert's fans and beyond. Fans have asked to meet Underwood and Hollinsworth when they attend Adam Lambert's Glam Nation concert on June 24 at the MGM Grand Theater at Foxwoods Resort Casino. The 4,000-seat theatre sold out in one day, testament to Lambert's popularity. The authors will make televised appearances on WFSB's Better Connecticut with Scot Haney (June 24, 3:00 pm) and Fox 61 News Connecticut with Sarah French (June 25, 11:00 am).
Writer Stevie Wilson of L.A. Story.com interviewed the authors and wrote: "I have to say that realizing just how whip-smart, sassy, and even at times provocative in their ideas and conjectures they are -- I thought I might be intimidated -- but they are very real women, with families, real lives, careers and humor about others and most willing to poke fun at themselves. Impressed doesn't begin to tell you what I think of them." The L.A. Story interview is available as a podcast.
Many fans of current artists are active on blogs, Facebook and Twitter, allowing Underwood and Hollinsworth to analyze the forces driving fan passion. "Lambert is a triple threat: gorgeous vocals, sexy and charismatic. No matter that he is openly gay. He may have single-handedly lain to rest the notion that coming out of closet will discourage female fans. His fans care about his vocal talent, musicality and showmanship – yes, he's very hot – and his ability to connect emotionally, whatever the genre, from standards and classic rock to contemporary electro-pop. The fans see themselves as crossing boundaries, and he appeals to the qualities they value – diversity, pleasure and freedom."
Buoyed by the enthusiastic response to their book, the authors have launched a blog, also called On the Meaning of Adam Lambert, and radio show, Juneau & Xena's Blogtalk Radio. The authors' writings resonate with Lambert's fans, who pour out their feelings online: "You and your site are as loved as Adam and thank you for all you do to serve the fans!! I bet you thought your blog would just be a fun expression of devotion and obsession to Adam…it's much more than that now, right?"
The authors of On the Meaning of Adam Lambert are available for interviews to provide a unique angle to media coverage of the upcoming Adam Lambert concert in your area. Juneau Underwood is a web entrepreneur, writer and editor specializing in neuroscience. She graduated from Harvard College, where she studied physics. Katherine Hollinsworth enjoyed success in business before the siren call that led to stints in politics and government. She has just launched a blog, Katherine Hollinsworth Unwrapped, of her opinion writing and essays. She graduated from York University with a Bachelor of Fine Arts. Photo credit: Alex Hollinsworth
ATTENTION: Of special interest to media covering these concerts:
6/17/10 Hammond, IN, Horseshoe Casino (Glam Nation Tour)
6/18/10 Royal Oak, MI, Royal Oak Theater (Glam Nation Tour)
6/19/10 Toronto, ON, Molson Amphitheatre (KISS FM Wham Bam)
6/20/10 Performing at Much Music Video Awards Show
6/22/10 New York, NY, Nokia Theater (Glam Nation Tour)
6/23/10 New York, NY, Nokia Theater (Glam Nation Tour)
6/24/10 MGM Foxwoods Casino, CT (Glam Nation Tour)
6/26/10 Atlantic City, NJ, Borgata Spa & Resort (Glam Nation Tour)
6/27/10 Baltimore, Rams Head (Glam Nation Tour)
6/28/10 Washington DC, 9:30 Club (Glam Nation Tour)
7/2/10 Charlotte, NC, The Fillmore Charlotte (Glam Nation Tour)
7/3/10 Myrtle Beach, SC (Glam Nation Tour), House of Blues
7/6/10 Knoxville, TN, Tennessee Theatre (Glam Nation Tour)
7/7/10 Nashville, TN The Ryman (Glam Nation Tour)
7/9/10 Cleveland, OH, Allen Theater (Glam Nation Tour)
###