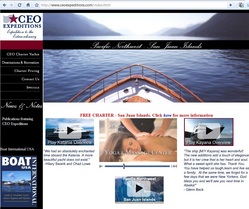 Guests get the kind of pampered travel experience normally available only to movie stars and billionaires. There's nothing like being catered to by an elite crew, with gourmet food, full activities, all inclusive, on your own private luxury yacht rental exploring one of the most beautiful places on earth
Bellevue, WA (Vocus) June 23, 2010
Today, CEO Expeditions, the Northwest's leading luxury yacht charter operator announced that Joseph Bayley, recent winner on the FOOD NETWORK "Chopped", will be joining the crew of the 123' luxury mega yacht Kayana for their one week, all inclusive, expenses only, cruises to introduce super yacht charter tours to the San Juan Islands, in Washington State. This island archipelago is consistently rated among the TOP 10 Island Destinations in the world, home of America's largest Orca pod and the Twilight series.
"We are delighted that Joe can join us this season. He is an award winning chef whose skills have taken him around the world – he joins us from Ni Neu in Sabastian, Spain, a Michelin Starred Basque restaurant – our guests will be in for a real treat" said Bruce Milne, owner of CEO Expeditions.
The inspiration for these tours was a charter CEO Expeditions did for the talk show host and author Glenn Beck two years ago. The luxury yacht Kayana had been delayed in refit and couldn't get up to Alaska where it normally charters, so it was available to host the Beck family, some of whom live nearbye. "Glenn, though a controversial character, was one of our crew's all time favorites; not only was he so gracious, but knowledgeable. Glenn showed us places in these islands he had explored when younger that were eye opening." stated Milne. He went on to say "The charter was an accident really, as we were the only mega yacht in the area due to our refit delay. It changed the course of our company."
Based on the experience of the Beck charter, CEO Expeditions worked with local tourism officials to open up luxury mega yacht charters to these islands with an introductory expenses-only charter. By waiving charters fees (normally $50 – 80K) and charging expenses only, guests pay less that they would for a cruise ship. "Guests get the kind of pampered travel experience normally available only to movie stars and billionaires. There's nothing like being catered to by an elite crew, with gourmet food, full activities, all inclusive, on your own private luxury yacht rental exploring one of the most beautiful places on earth" closed Bruce Milne, whose family homesteaded the islands 100 years ago.
About CEO Expeditions
The firm offers two super yachts in the San Juans, the 100' Katania, of which actress Hilary Swank said "A more beautiful yacht does not exist", and the 123' Kayana, which hosted the Beck party. Both offer the finest in luxury yachting accommodations, with full crew and complete amenities including kayaks, hot tubs, multimedia game systems and full gear for fishing, crabbing, and whale watching on the private, luxury San Juan Islands cruises from CEO Expeditions.
Fee for one week all inclusive charters start at under $4000 per day, depending on yacht size and number of guests - an unprecedented value for San Juan Islands boat rentals of any kind, and the only mega yacht program of its kind in the San Juan Islands. For more information go to http://www.ceoexpeditions.com or call Gina Stanhope at 425-460-4100.
# # #