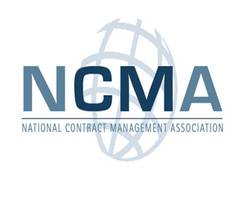 The board is comprised of innovative and passionate government and industry leaders who will provide an invaluable contribution to the strategic growth of NCMA. We are privileged to have the collective talents of such professionals working together to take the association to new heights
Ashburn, VA (Vocus) July 1, 2010
Ashburn, VA--June 30, 2010 — The National Contract Management Association (NCMA) is pleased to announce the NCMA Board of Directors for the 2010–2011 program year, which commences July 1, 2010. All members of the Board will congregate for their first meeting during NCMA's World Congress in Fort Lauderdale, Florida, July 18–21, 2010.
"The board is comprised of innovative and passionate government and industry leaders who will provide an invaluable contribution to the strategic growth of NCMA. We are privileged to have the collective talents of such professionals working together to take the association to new heights," stated NCMA President Gary Poleskey. "NCMA President-elect Karen Wilson is among the most widely respected experts in the profession and we are honored to have her lead NCMA through the coming year."
NCMA is led by volunteer members who are elected officers. The NCMA Board of Directors is the association's national governing body.
The 2010–2011 Board of Directors are:

Karen L. Wilson, J.D., LL.M., Fellow (President)
Charles D. Chadwick (President-Elect)
Gary L. Poleskey, CPCM, Fellow (Past President)
Neal J. Couture, CPCM (Executive Director)
John G. Horan, J.D. (General Counsel)
Russell J. Blaine, CPCM (Director)
Elliott B. Branch, Fellow (Director)
Robert A. Burton, Fellow (Director)
L.L. Po Collins, CPCM, C.P.M., Fellow (Director)
Michelle M. Currier, CPCM, CFCM, Fellow (Director)
Michael Fischetti, J.D., CPCM, Fellow (Director)
Brian K. Greenberg, CPCM, Fellow (Director)
Kathleen Hines, CPCM, Fellow (Director)
William S. Kaplan, CPCM, Fellow (Director)
Deidre A. Lee, CPCM, Fellow (Director)
Thomas Robinson (Director)
Rich Roellig, Fellow (Director)
Kimberly Rupert, CPCM, CFCM (Director)
Maj. Gen. Darryl A. Scott, USAF (Ret.) (Director)
Whitney A. Taylor, Fellow (Director)
Larry Trowel (Director)
Rita L. Wells, Ph.D., CPCM, Fellow (Director)
Penny L. White, J.D., Fellow (Director)
About NCMA
Founded in 1959, NCMA is the leading association in the field of contract management. The organization is dedicated to the professional growth and educational advancement of procurement and acquisition personnel worldwide. NCMA strives to serve and inform the profession and to offer opportunities for the open exchange of ideas in neutral forums. For more information, visit http://www.ncmahq.org.
###