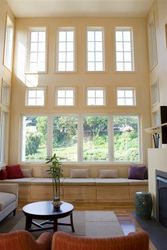 There's no better time than right now to invest in new windows for the home
Parkersburg, WV (Vocus) July 8, 2010
Procrastinators, beware. The federal energy tax credit that allows homeowners up to $1,500 in tax credit savings when replacing their windows expires on December 31st of this year.
"Adding energy-efficient replacement windows to a home immediately helps lower everyday energy bills and increases a home's long-term value and comfort," says Tom Kraeutler, host of the national home improvement radio show, The Money Pit. "There simply is no better time to take advantage of the government's incentives to replace older windows."
Kraeutler notes that smart homeowners can also receive $150 toward the preparation of their 2010 personal income tax return with H&R Block® when they purchase 12 or more qualifying energy-efficient windows.
"Talk about 'return on investment' --- Simonton Windows is offering a trifecta of savings," says Kraeutler. "Homeowners can reduce their energy bills, qualify for up to $1,500 in federal energy tax credit and get up to $150 toward tax preparation fees when making the decision to invest now in qualifying replacement windows. Those are three really good reasons to get this project done now."
When to Replace Windows
A former professional contractor, Kraeutler offers weekly advice to homeowners nationwide on home improvement projects. Deciding when to replace windows is a key topic covered on his show.
"Products in the home have a distinct lifespan," says Kraeutler. "After 10 years, windows should be monitored yearly to ensure their performance is holding up. When a window stops operating correctly, then it's time to invest in new windows.
"Vinyl windows and doors specified with LoE glass packages are a viable 'green' option offering several distinct advantages for homeowners. They include exceptional thermal performance, durable recyclable vinyl, low maintenance, and aesthetic appeal --- all adding comfort, beauty and energy efficiency to a home."
Energy Tax Credit (ETC) Glass Packages
Simonton Windows offers Energy Tax Credit (ETC) glass packages in a wide variety of vinyl-framed replacement windows and patio doors that are guaranteed to meet the federal energy tax credit requirements and are eligible for the H&R Block promotion. Simonton products ordered with the ETC glass packages are ENERGY STAR® qualified and certified by the National Fenestration Rating Council (NFRC) to meet a U-factor rating of 0.30 or less, and a Solar Heat Gain Coefficient (SHGC) of 0.30 or less. These are the energy ratings stated by the U.S. government that are required for homeowners to take advantage of the Federal Energy Tax Credit under the American Recovery and Reinvestment Act of 2009.
"There's no better time than right now to invest in new windows for the home," says Kraeutler. "From the day they're installed, a homeowner's heating and cooling bills will drop and they'll start receiving payback in many ways."
For a free replacement window guidebook from The Money Pit, download http://www.myhomemymoneypit.com/your-guide-to-replacing-the-windows-in-your-house.php. A listing of energy-efficient Simonton replacement products that qualify for the energy tax credit is available at http://www.simonton.com/taxcredit.
Simonton Windows produces ENERGY STAR® qualified replacement and new construction windows and doors, including a line of impact-resistant products. Simonton ranked #1 in quality in the 2009, 2007, 2002 and 1998 Brand Use Studies sponsored by Builder magazine and has won three Best In Class Awards from Market Research Associates.
Founded in 1946, Simonton's hallmark has been to deliver its made-to-order products in five days or less. Part of the home and security business of Fortune Brands, Inc. (NYSE: FO), Simonton delivers award-winning products nationwide to key markets throughout the 48 continental United States. For information, call (800) SIMONTON (1-800-746-6686) or visit http://www.simonton.com.
###